Comparing The Luxury SUVs: Volvo XC90 vs. Audi Q7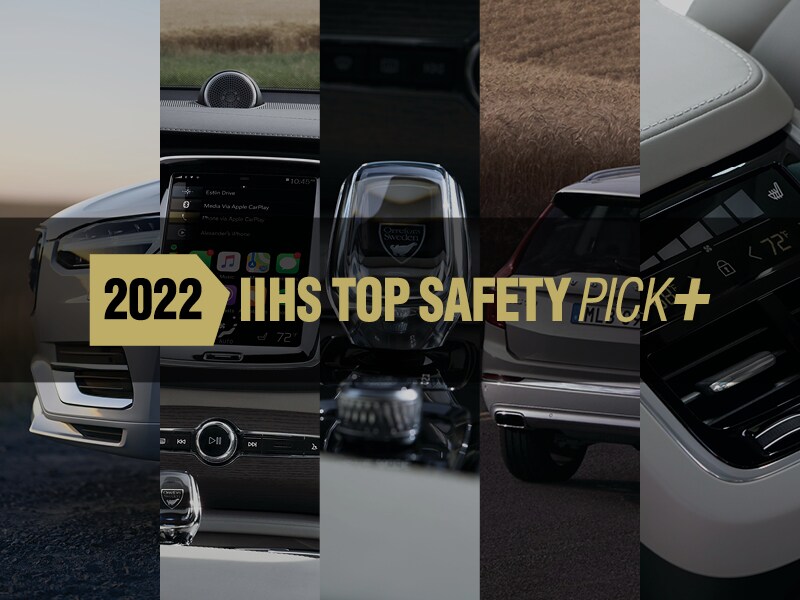 This page is going to compare the 2022 Volvo XC90 vs. Audi Q7. These two luxury three-row SUVs can fit large families, but which one is the better choice? Volvo vehicles are known for being reliable, dependable, and sleek. Audi cars are also well-regarded. This Audi Q7 vs. Volvo XC90 review is going to look at these cars' performance, safety equipment, technology, and more.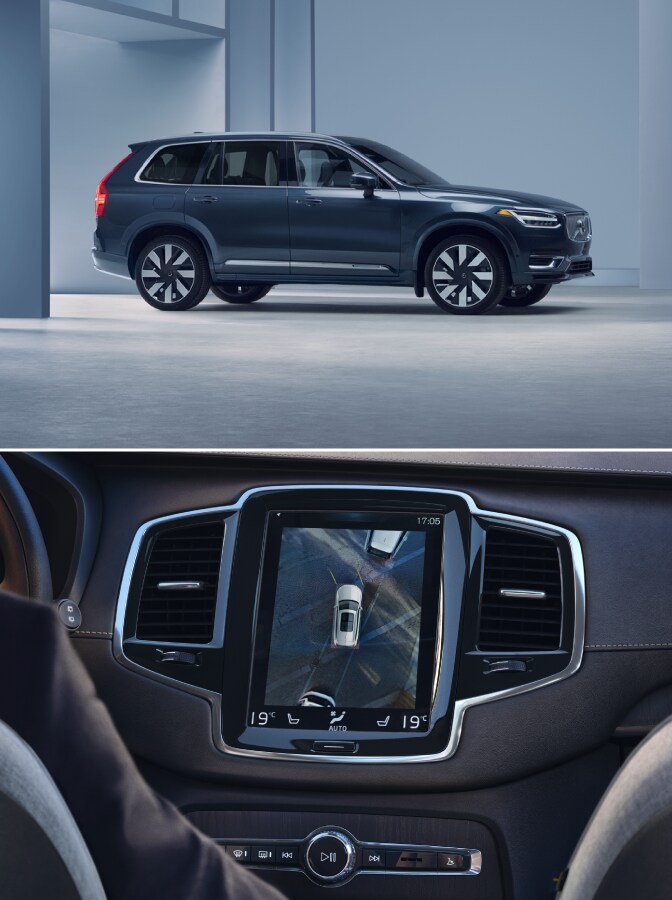 Volvo XC90 vs. Audi Q7 Performance and Safety
There are three different available engine configurations for the 2022 Volvo XC90. The T5 engine is a turbocharged 2.0-liter four-cylinder that makes 250 horsepower. The next option is the T6 setup, which pairs the T5 engine with a supercharger for a total of 316 horsepower. There is also a plug-in hybrid version of this luxury SUV, the Volvo XC90 Recharge. It uses the same engine as the T5 but adds a battery-and-motor system for a total output of 455 ponies.
The 2022 Audi Q7, by comparison, has just two available engines. It also uses a turbocharged 2.0-liter four-cylinder as its base engine, though this version gets just 248 horsepower. The other available choice is a 3.0-liter V-6 with a hybrid battery-and-motor companion system that together put out 335 horsepower. While those numbers are respectable enough, both lose out to the Volvo options.
As we compare the Volvo XC90 and Audi Q7, we will also see that the Volvo XC90 wins out in safety. It has a wide range of standard safety features, including forward-collision warning, automated emergency braking, blind-spot monitoring, rear cross-traffic alert, and lane-departure warning. The Audi Q7 has some of these features as standard, such as automated emergency braking, but others are not, such as lane-departure warning.
If you're now convinced that the luxury Volvo SUV is the way to go, then it's time to check out our new Volvo XC90 inventory.
Volvo XC90 vs. Audi Q7 Interior
Another important aspect of the Volvo XC90 vs. Audi Q7 debate is the question of their respective interiors. Both of these SUVs are luxury vehicles, so each has an impressive interior. Depending on the trim, you'll find leather upholstery and premium features, such as heated and ventilated seats, heated steering wheels, and more.
However, the interior of the Volvo XC90 is exquisite. The Scandinavian design ethos permeates the entire vehicle, lending it an air of refinement that is hard to match. Sleek lines and comfortable seats make for a visually appealing and comfortable space. As we shall see, the Volvo XC90 also has a great lineup of premium interior features.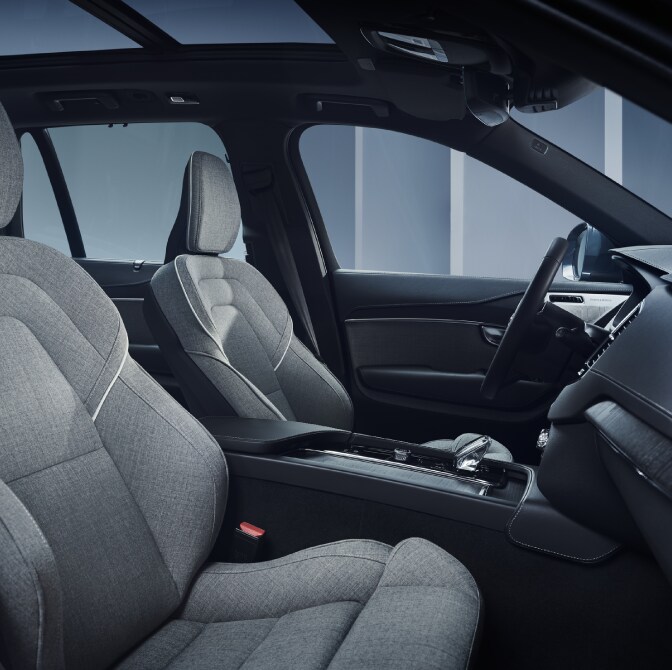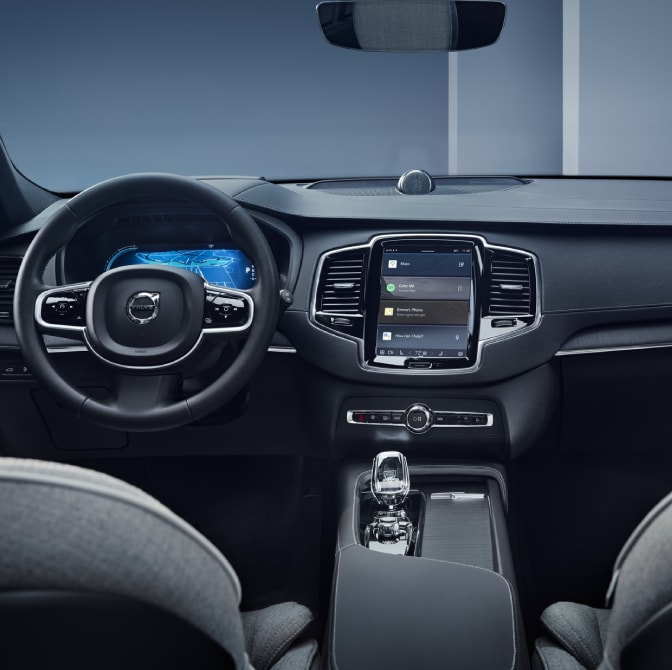 Audi Q7 vs. Volvo XC90 Technology
When it comes to navigation and music control technology, it is easy to compare the Audi Q7 and Volvo XC90. The main difference is that the Volvo XC90 has a single 9.0-inch touch screen in the front, while the Audi Q7 has a 10.1-inch screen and a smaller 8.6-inch one directly below it. More screens may sound like a good thing, but we think that a blend of touch-screen technology and actual tactile buttons is the way to go.
Other interior technology categories swing in favor of the Volvo XC90 luxury SUV. This excellent vehicle has dual-zone climate control, whereas the Audi Q7 has just a single zone. The mid-trim Volvo XC90 also has adaptive cruise control, while the mid-trim Audi Q7 has only the standard version of this technology.
If you want to drive a brand-new Volvo XC90 without making a large monthly payment, then you'd do well to consider a Volvo XC90 lease.
Audi Q7 vs. Volvo XC90 Dimensions and Cargo Space
When you're deciding to buy the Volvo XC90 or Audi Q7, one major factor is internal space. The Audi Q7 has slightly more front and second-row legroom, at 41.7 inches and 38.8 inches, respectively. The Volvo XC90 has 40.9 inches and 37 inches, by comparison. However, in the third row, the Volvo XC90 wins out: 31.9 inches to 29.2 inches.
If you're looking for a third row in your SUV, then the room in the third row is perhaps the most essential internal dimension in the Volvo XC90 vs. Audi Q7 comparison. Every inch counts in the third row, especially on a long trip.
Here at Gunther Volvo Cars Daytona Beach, we have the new Volvo XC90 hybrid for sale. This version can help you save a great deal of money at the pump. Contact our dealership today to arrange your test drive.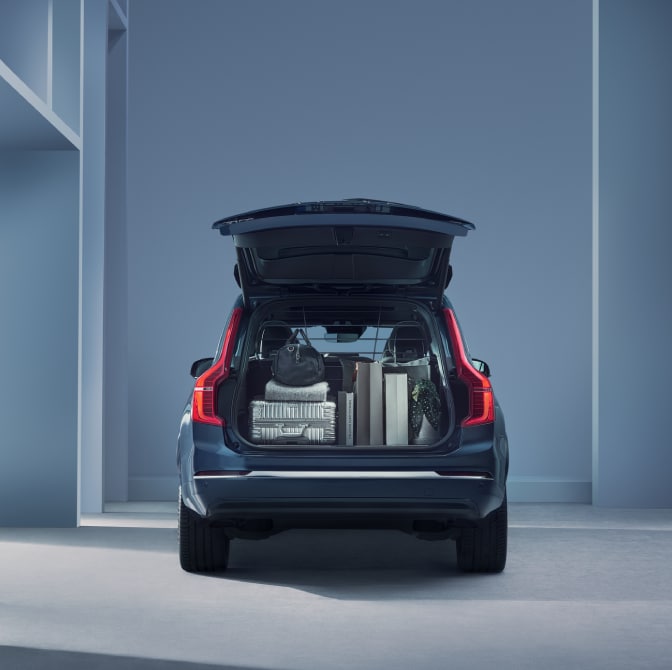 ---
Frequently Asked Questions
Which is cheaper to maintain: Volvo vehicles or Audi vehicles?
Audi vehicles can be expensive to maintain because they have very particular foreign parts that can be hard to replace. Volvo cars, by comparison, are designed to be hardy and durable. When a part does give out, it's easy to find a replacement. In short, Volvo vehicles are less expensive to maintain than Audi ones.
Are Volvo vehicles safer than Audi vehicles?
As we explained above, the Volvo XC90 has more standard safety features than the Audi Q7. The general rule across the Volvo lineup is that the company puts a premium on safety, offering a great suite of safety features on every new vehicle. Volvo vehicles are not only safer than Audi, but they also contain a better suite of safety features than most other car manufacturers.
Is Volvo Cars considered a luxury car company?
Volvo Cars makes luxury vehicles. There is no debate to be had here; industry observers classify their vehicles as such. This won't surprise anyone who has spent much time in a new Volvo vehicle: they are replete with premier materials, awesome luxury features, and creature comforts. You and your passengers will be enveloped by luxury when you ride in your new Volvo car.