2023 Volvo XC40 For Sale In Daytona Beach Near Orlando, FL

Expand or Narrow Your Volvo Inventory Search Using These Convenient Quick Links:
*While we make every effort to provide you the most accurate, up-to-date information, occasionally, one or more items on our website may not represent actual vehicle (Car Availability, Mileages, Equipment, Options, Color and Prices may vary due to the involvement of other vendors and human error).
What's New for the 2023 Volvo XC40?
The new Volvo XC40 for sale boasts a new set of trims – and a new set of powertrains to match. The Momentum, Inscription, and R-Design trims that so many Volvo fans are familiar with are gone, replaced by the streamlined Core, Plus, and Ultimate models. The new Volvo XC40 powertrains are mild-hybrid configurations, the B4 and B5, that replace the gasoline-only T5 and T6 setups that were available on previous models of this sleek two-row luxury SUV. The 48-volt battery-and-motor system adds significant efficiency to this already attractive vehicle, making it an excellent choice for drivers in Daytona Beach, FL.
The 2023 Volvo XC40 also enjoys a couple of stylistic updates. The headlights, front bumper, front grille, and wheels have all been redesigned for the latest model year. This luxury SUV looks as great as it performs on the roads near Orlando, FL. We will discuss the vehicle's exciting design, technology, safety features, warranty coverage, and more in the rest of this article.
2023 Volvo XC40 Design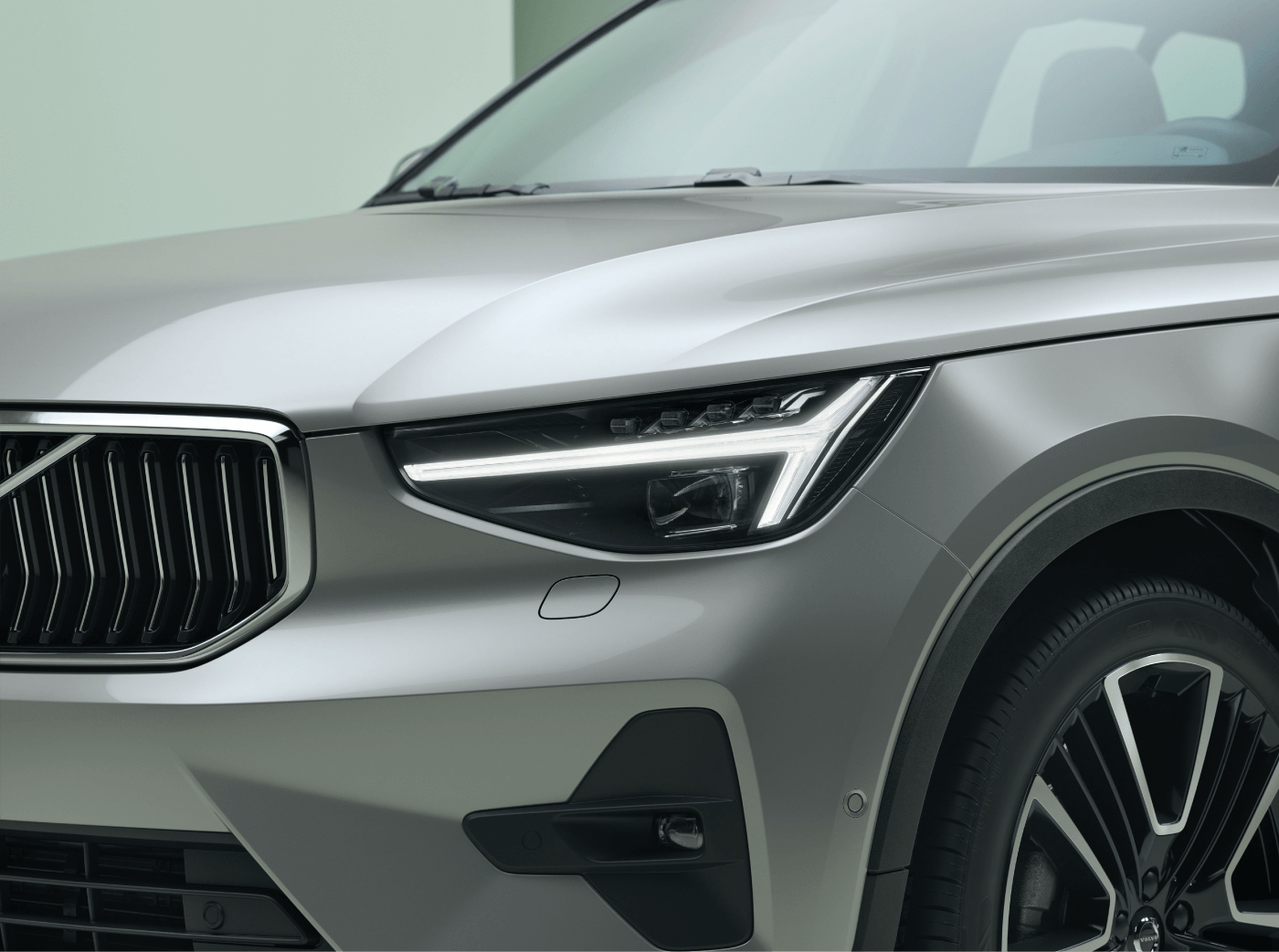 Volvo XC40 Exterior
Our new Volvo XC40 for sale is 174.8 inches long, 80.1 inches wide with mirrors, and 65 inches tall. These dimensions translate into a spacious and comfortable interior, as we'll cover in a moment. They are not, however, so large as to keep you from deftly guiding this sleek luxury SUV into tight parking spaces when the need arises. The parking technology that comes standard on this dynamic car will also prove quite helpful when you find yourself in a packed parking lot.
In addition to being a great size for motorists, this SUV is deeply pleasing to look at. Its graceful curves guide the eye across the entirety of the car, inviting folks to check out every inch of your new luxury automobile. With a wide variety of colors and a pair of exterior themes to choose from, you can customize the exterior of your new Volvo XC40 to match your preferences.
Volvo XC40 Interior
As we noted above, the Volvo XC40 dimensions offer a spacious interior with plenty of room for the whole family. Folks in the front of your new Volvo XC40 will enjoy 39 inches of headroom, 56.7 inches of shoulder room, and 40.9 inches of legroom. You have space to shift and find the right posture on your comfortable seat during long drives. Rear seat passengers also have plenty of space with 39.1 inches of headroom, 56.3 inches of shoulder room, and 36.1 inches of legroom.
The 2023 Volvo XC40 offers plentiful interior cargo space. With the rear row up, you'll have 16 cubic feet of space for luggage, groceries, or whatever else you have to haul near the Palm Coast. When you fold the back seat down, that expands to a roomy 57.5 cubic feet of cargo space. The seats fold flat, allowing you to easily put furniture, antiques, or other large objects into the vehicle. The Volvo XC40 is spacious and ready for moving day.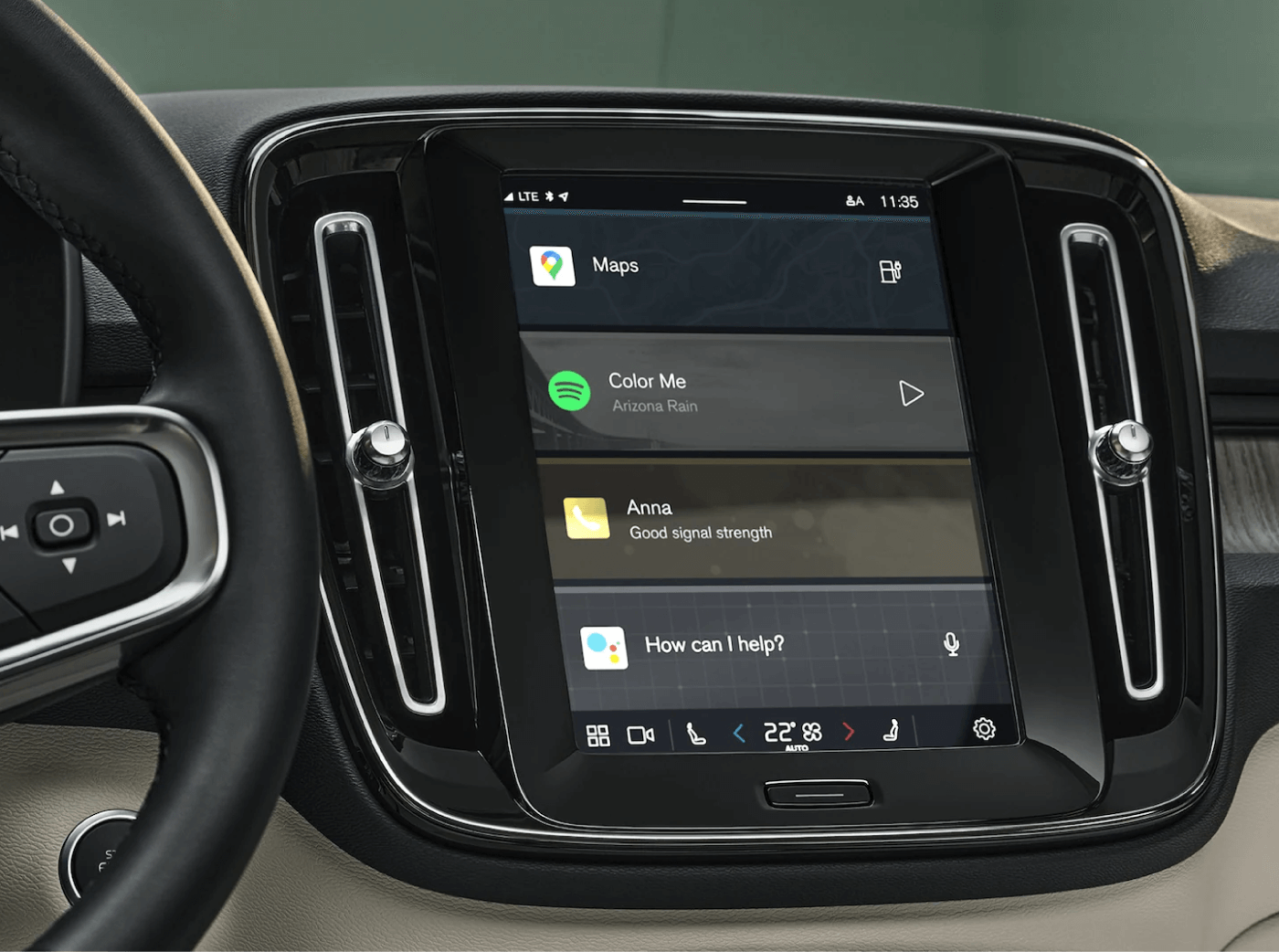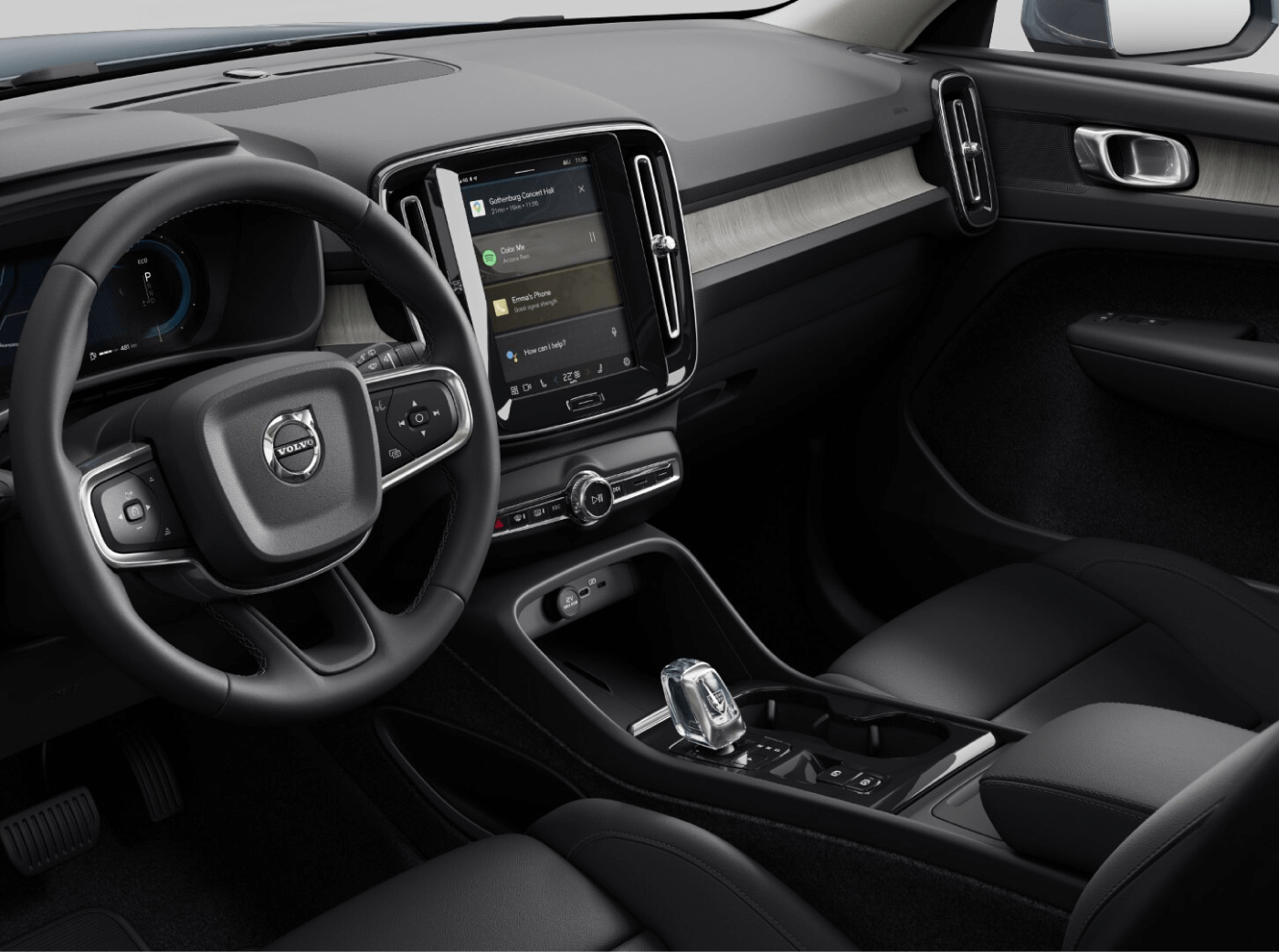 Volvo XC40 Comfort
The Volvo XC40 is built for efficiency and luxury. The interior of the SUV is rife with creature comforts, including premium textile upholstery that is both pleasant to sit on and easy to clean. For those with kids, this last characteristic is quite a blessing. You'll also enjoy a two-zone climate control system, heated front seats, and front seats that are almost endlessly adjustable, allowing you to find the perfect settings for your body and preferences.
The mid- and top-tier versions of the new Volvo XC40 for sale offer even more comforts for drivers in Daytona Beach, FL. The laminated panoramic moonroof will allow sunlight to bathe your cabin during the day and for the kids to stargaze during nighttime rides. You'll also enjoy a power front passenger seat and numerous exterior upgrades, such as a chrome grille frame, with these trims.
Volvo XC40 Accessories and Add-Ons
There are three packages of features available for the entry-level Volvo XC40, along with a number of individual add-ons. The Climate Package adds heated rear seats and a heated steering wheel to your vehicle – this is great for folks who don't like the cold. The Convenience Package adds keyless entry, a power passenger seat, and an automatically dimming rearview mirror to your vehicle. This package is only available for the Core trim, as the other two trims have these as standard features.
The third available package for the Core trim is the Protection Package Premier. It includes rubber floor mats, a plastic luggage mat, wheel locks, and a first aid kit. These features work together to keep your vehicle clean and safe. The first aid kit is something that the team at our dealership near Orlando, FL, hopes you will never need. It is, however, better to have it and not need it than the reverse. You can also add several individual upgrades to your 2023 Volvo XC40, including mud flaps, running boards, load bars, and a tow bar hitch (without a ball).
2023 Volvo XC40 Technology
Volvo XC40 Digital Displays
Every Volvo XC40 comes standard with a pair of media displays. The 9-inch touch screen sits between the driver and front passenger, allowing either occupant to control music and navigation. Our team can't help you decide whether you or your partner gets to choose the music – that's between you two. What we can tell you, though, is that the Volvo XC40 has an intuitive software system that allows you to easily set up tunes and navigation. You can also connect your iPhone® directly to the car using the Volvo XC40 Apple CarPlay® so that you can access your favorite albums and podcasts with ease.
The second digital display in the new Volvo XC40 for sale is a 12-inch configurable digital dashboard and instrument cluster. It shows you all the crucial vehicle data you need to drive effectively and safely. You can set the display up to match your preferences, which is a nice elegant touch by Volvo Cars. These two screens are durable and long-lasting; you shouldn't have to replace them anytime soon.
Volvo Cars understands that different drivers have different preferences, so in the cabin of the new Volvo XC40 for sale, you can set the 12-inch digital dashboard to Calm or Navi mode as you please. These intuitive and sleek digital media screens are yet another compelling reason to consider our Volvo XC40 lease specials.
Volvo XC40 Features
This luxury vehicle is filled with top-of-the-line features. Every model comes standard with a high-performance eight-speaker sound system that will bathe you and your passengers in your favorite songs or the smooth voice of your preferred podcaster. The top-tier Volvo XC40 Ultimate boasts an upgraded 13-speaker Harman Kardon® system that also features an air-ventilated subwoofer. Audiophiles would be well-served to consider the Ultimate trim with this impressive cabin concert hall.
A number of other features make the Volvo XC40 elegant and practical. The powered tailgate makes it easy to get that armful of groceries into the back of the vehicle, while the interior decor adds a touch of refinement to this SUV. The base model comes with Iron Ore aluminum interior accents, while the mid- and top-tier versions of the 2023 Volvo XC40 boast genuine wood decor. This holds true across the different versions of the Volvo XC40, whether you're considering a mild-hybrid model or the all-electric Volvo XC40 Recharge Pure Electric.
The Volvo Cars App
In this modern era of connectivity, we expect a lot of our smartphones and other devices. Since your new luxury SUV has a computer in it, it's likely counted as one of those devices. Volvo Cars delivers on this front with the Volvo Cars App. It allows you to lock, unlock, turn on, and turn off your vehicle remotely. These features offer all sorts of flexibility. You can warm your new Volvo XC40 up on a cold morning, for example, before you even step outside the house.
The Volvo Cars App also works to make ownership easy. You can schedule service appointments through the app. This makes it easy to get your oil changed, brakes checked, or tires rotated. If visiting your local dealership doesn't fit your schedule, you can use the Volvo Valet service. We will pick your vehicle up, bring it to the dealership, perform maintenance, and bring it back to you.2 We can even offer you a loaner during the time we've got your car if you need one.
2023 Volvo XC40 Performance
| | 2023 Volvo XC40 B4 FWD | 2023 Volvo XC40 B5 AWD | 2023 Volvo XC40 Recharge T8 eAWD |
| --- | --- | --- | --- |
| Starting MSRP1 | Starting at $36,350 MSRP | Starting at $46,805 MSRP | Starting at $53,550 MSRP |
| Engine | Direct Injected Turbocharged Engine | Direct Injected Turbocharged Engine | 78-kWh lithium-ion battery (front and rear motors) |
| Horsepower | 194 hp | 247 hp | 402 hp |
| Torque | 221 lb.-ft. | 258 lb.-ft. | 486 lb.-ft. |
| Transmission | 8-Speed Automatic | 8-Speed Automatic | 1-Speed Automatic |
| EPA-estimated Fuel Economy (Combined)3 | 27 | 26 | 85 MPGe5 |
| Fuel Tank Capacity | 14.2 gal. | 14.2 gal. | N/A |
| Fuel Type | Gasoline (mild hybrid) | Gasoline (mild hybrid) | Electric |
| Storage/Cargo Volume | 57.5 cu.ft. | 57.5 cu.ft. | 57.5 cu.ft. |
| Towing Capacity (When properly equipped) | 3,500 lbs. | 3,500 lbs. | 4,409 lbs. |
| Seats | 5 seats | 5 seats | 5 seats |
| Dimensions H/L/W | 65 in./174.8 in/75.2 in (with mirrors folded) | 65 in./174.8 in/75.2 in (with mirrors folded) | 65 in./174.8 in/75.2 in (with mirrors folded) |
2023 Volvo XC40 Trims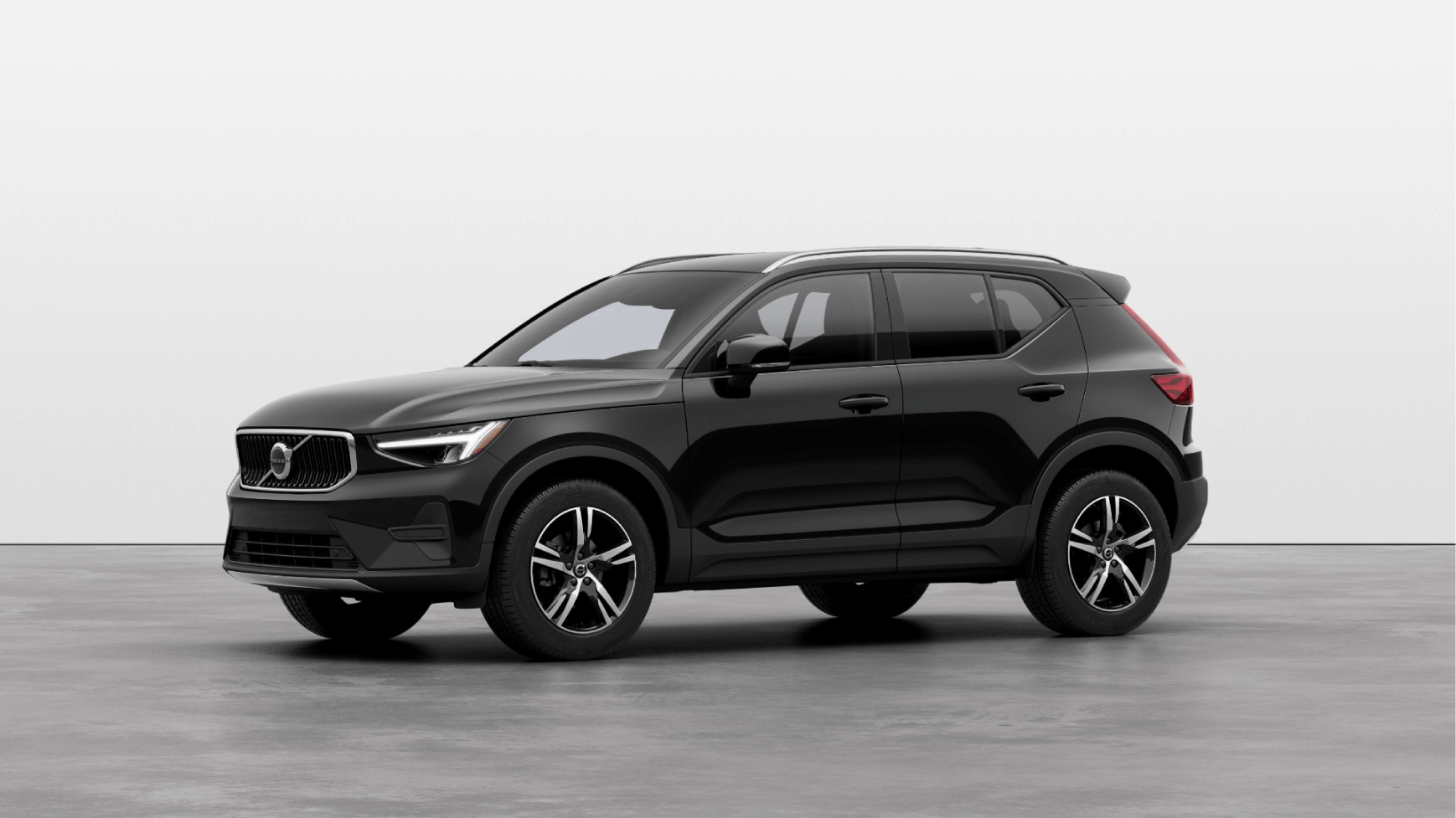 Volvo XC40 Core
---
The entry-level Volvo XC40 is replete with luxuries and creature comforts. It features heated front seats, a dual-zone climate system, and comfortable front seats that can be configured in myriad ways to ensure you can relax, even on long rides. The Volvo XC40 Core offers excellent value for your hard-earned money.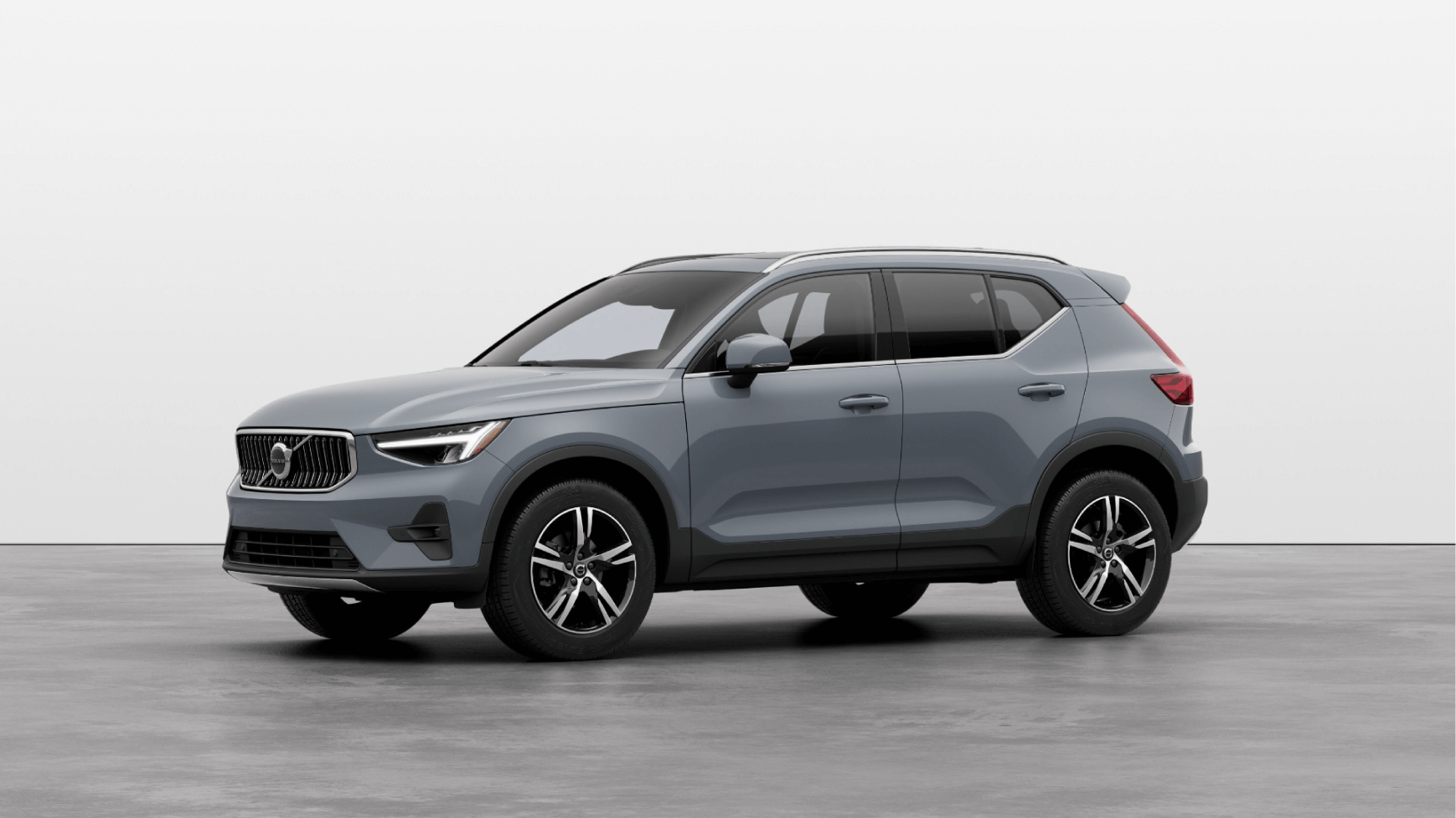 Volvo XC40 Plus
---
The mid-tier Volvo XC40 Plus enjoys keyless entry, a panoramic moonroof, upgraded parking technology, and genuine wood interior trim. These features, ranging from the useful to the luxurious, offer drivers compelling reasons to consider going with the sleek Plus model. It also has a genuine Orrefors® crystal gear shift for good measure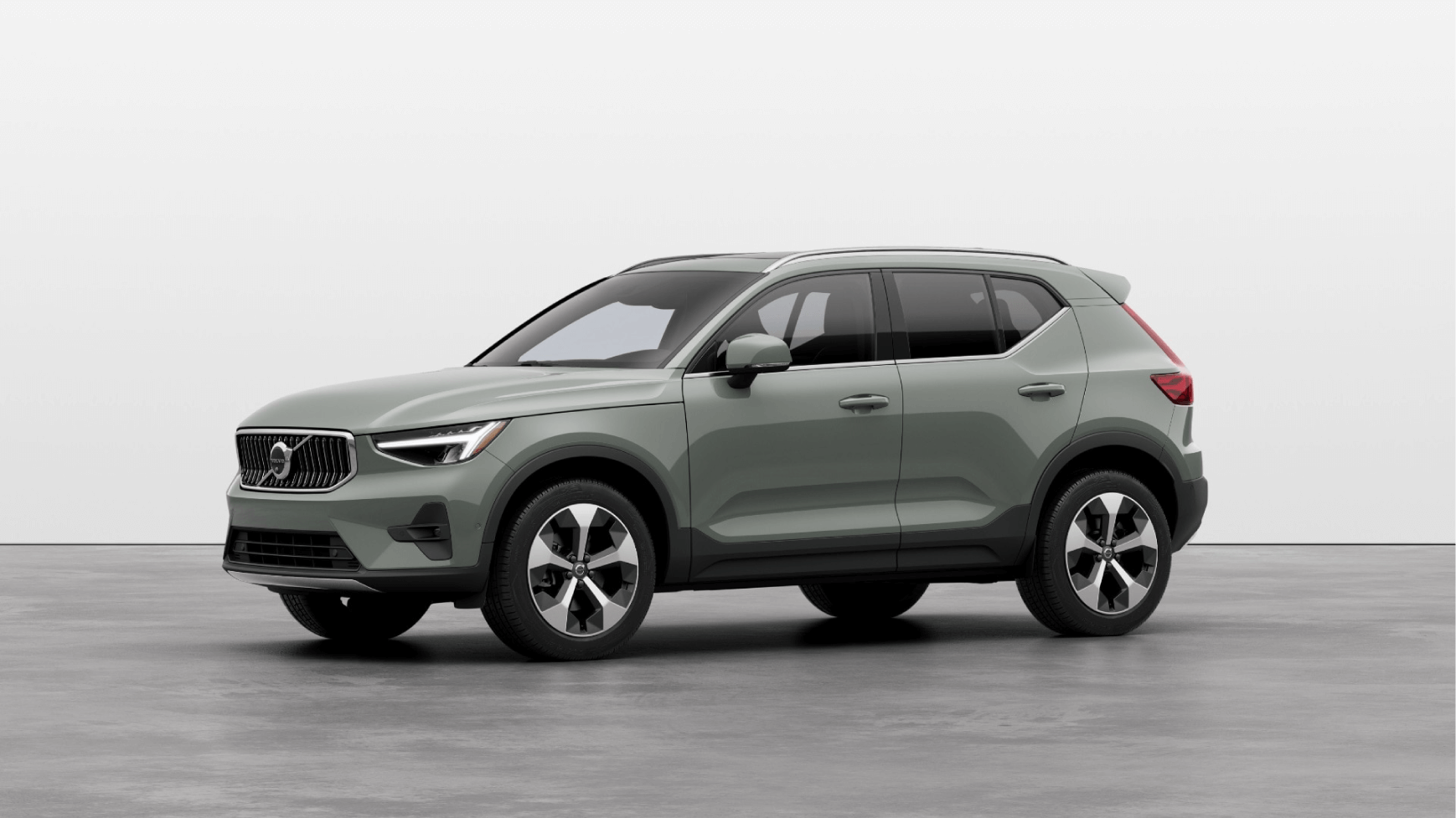 Volvo XC40 Ultimate
---
The top-of-the-line version of our new Volvo XC40 for sale boasts a premium 13-speaker sound system, a 360-degree view camera, and 19-inch wheels. The SUV is dynamic and powerful, making it a superb choice for drivers near the Palm Coast. Visit us today for a test drive.
2023 Volvo XC40 Colors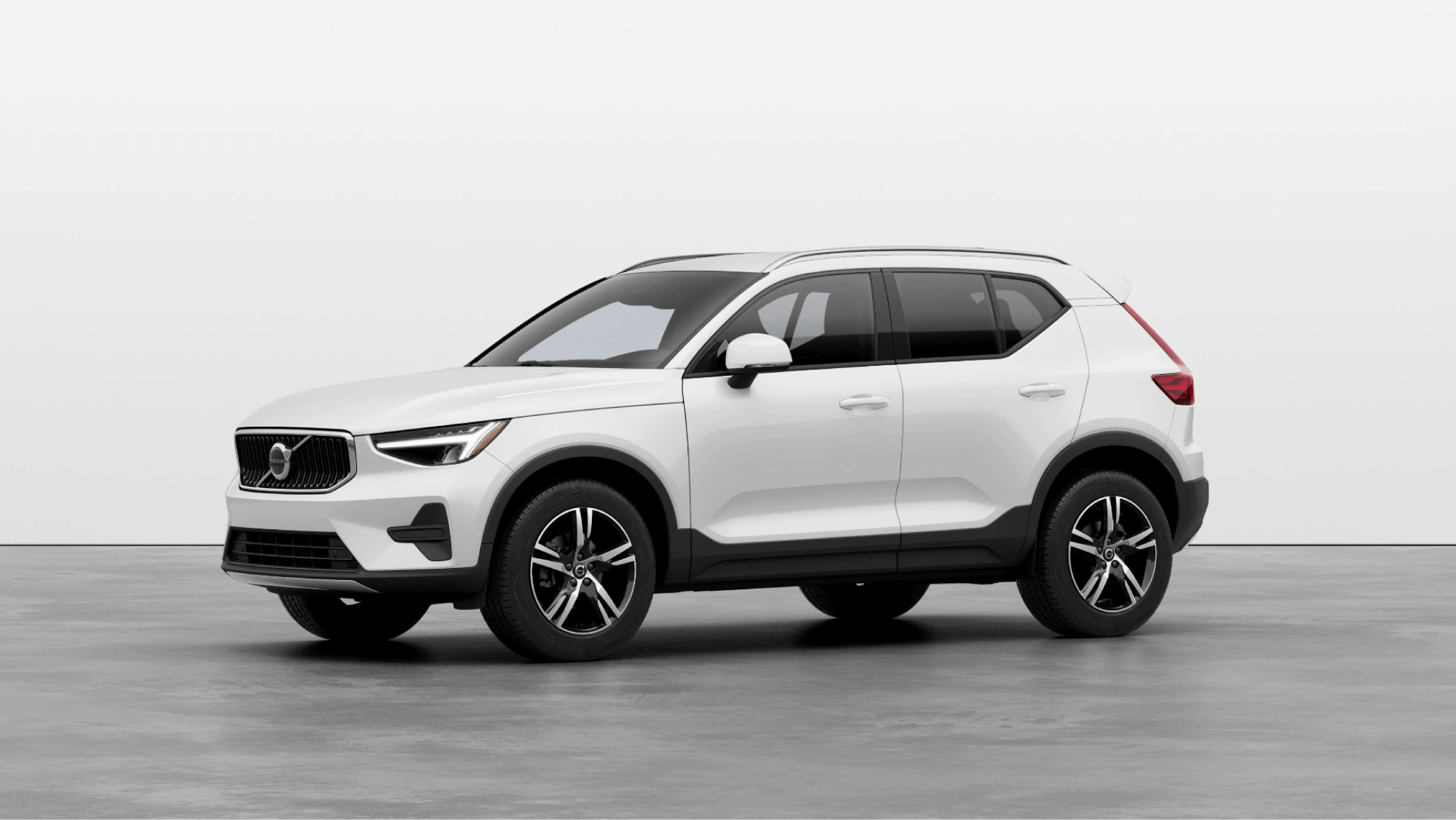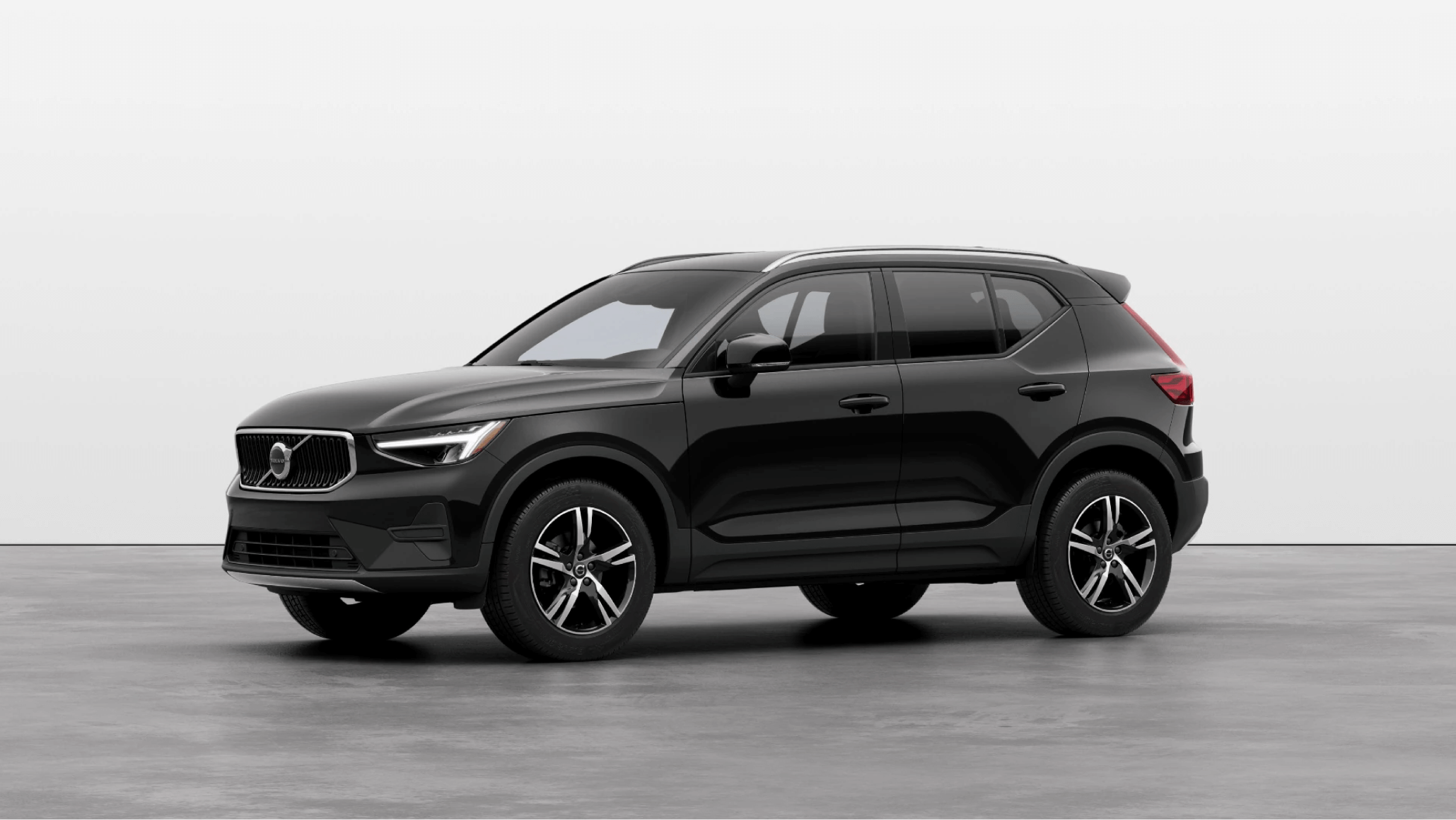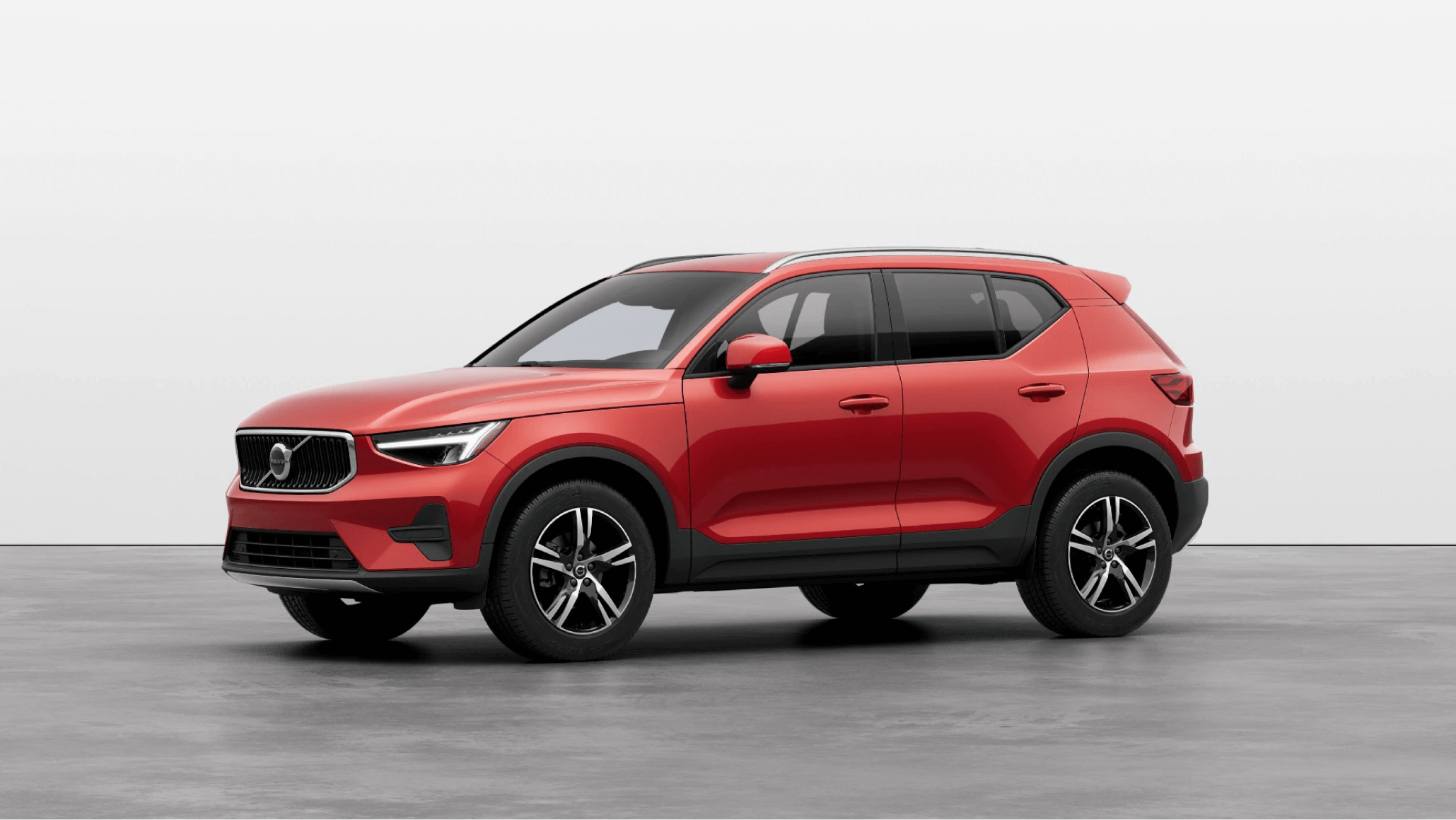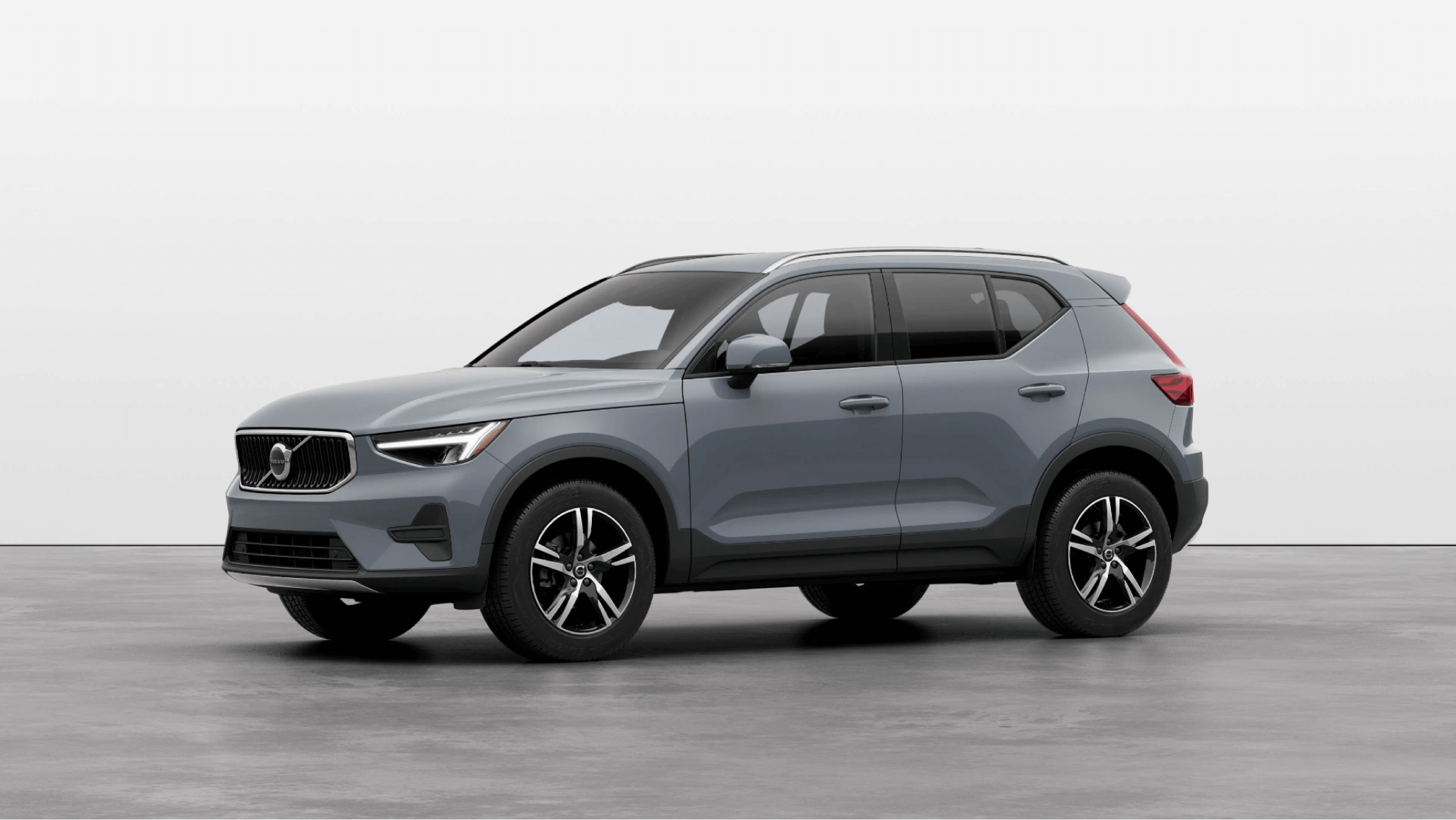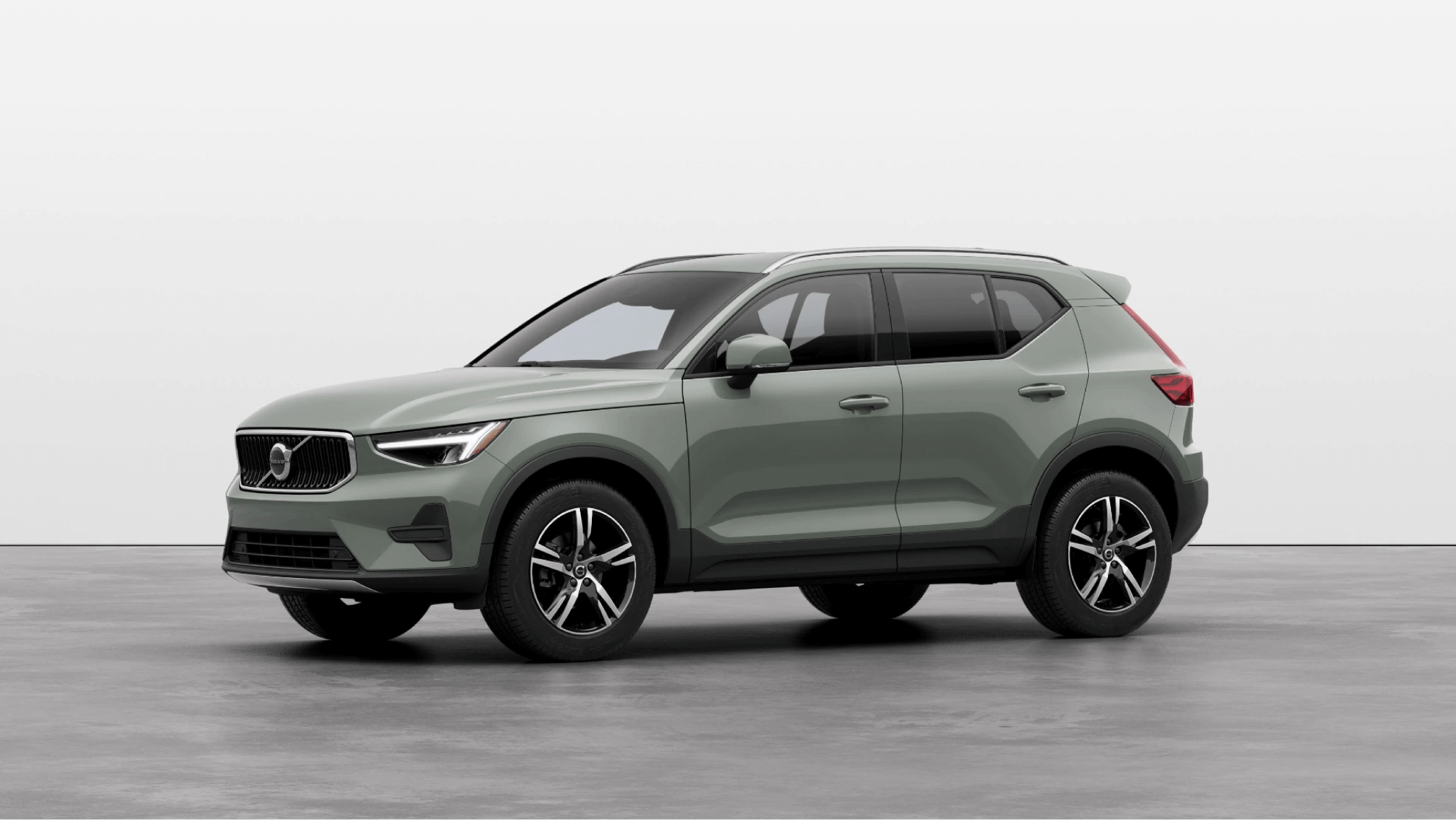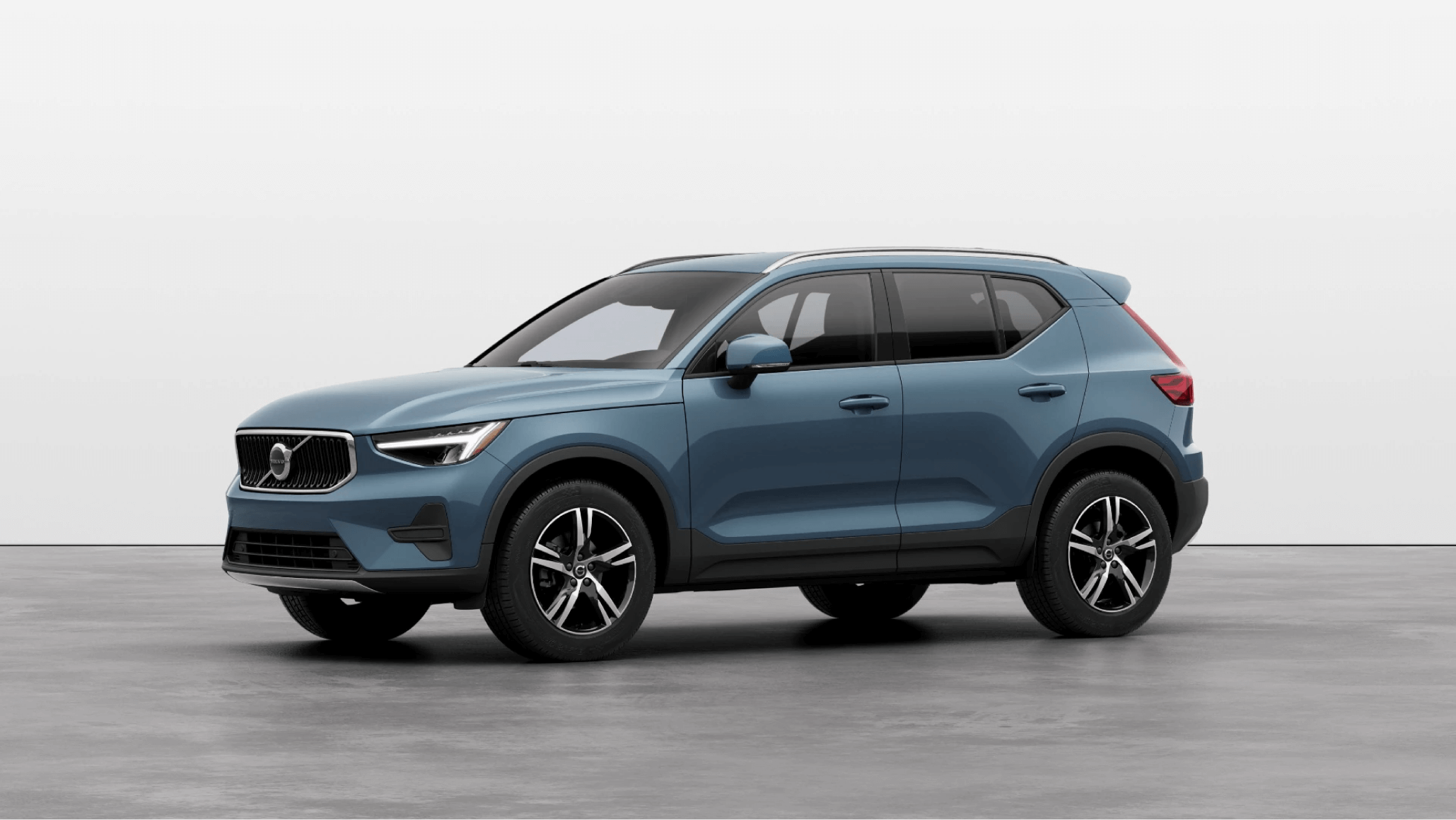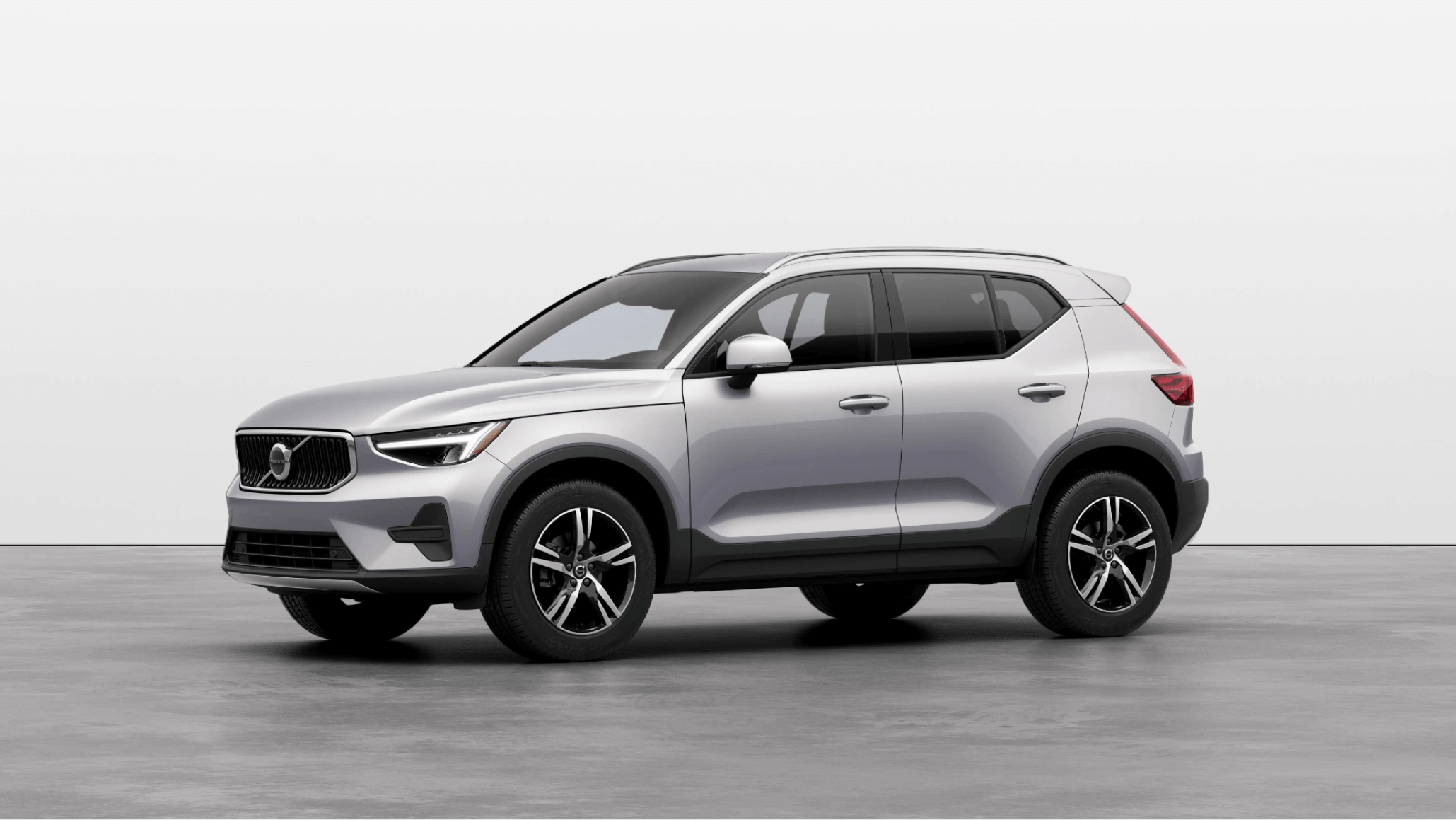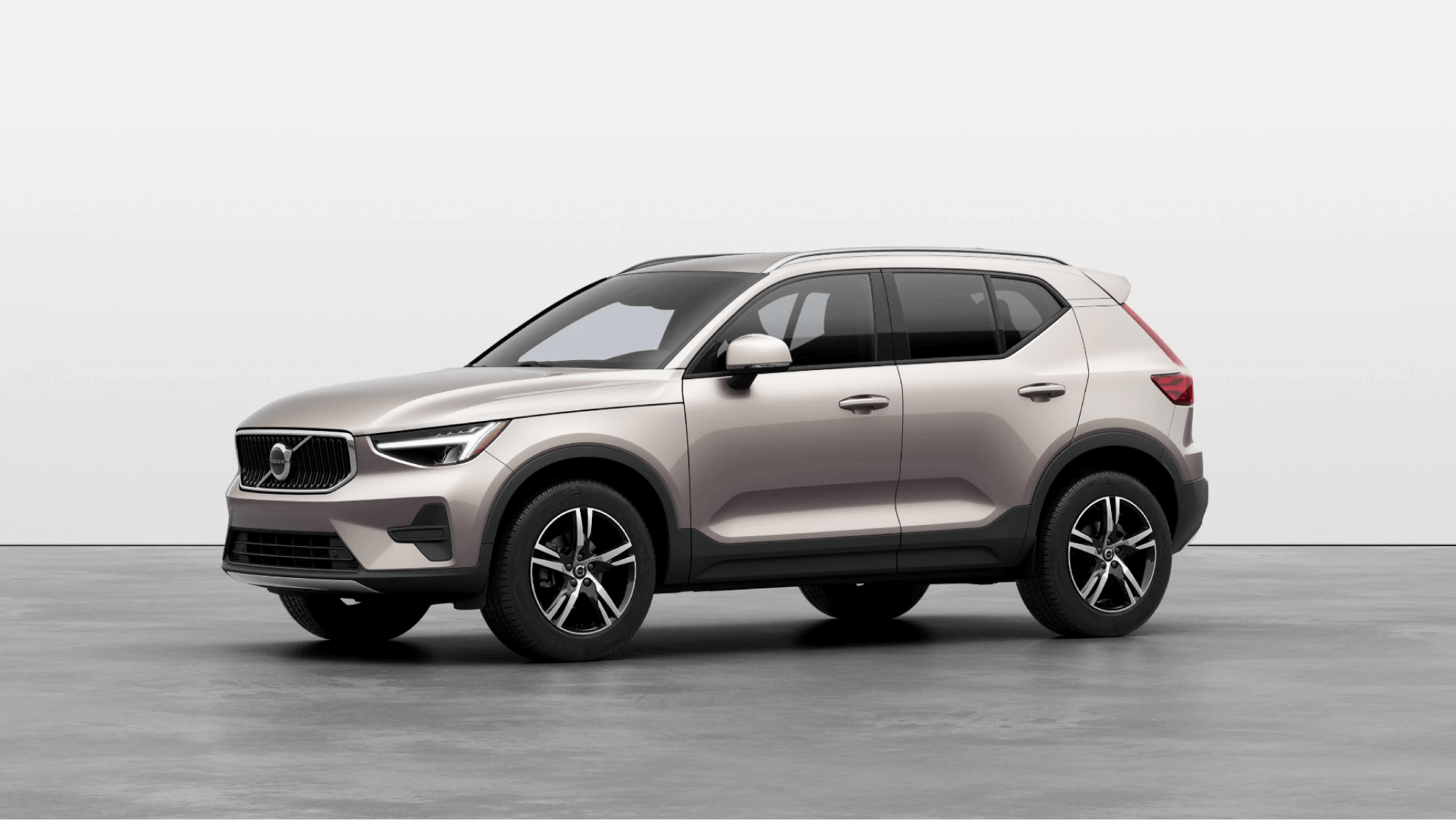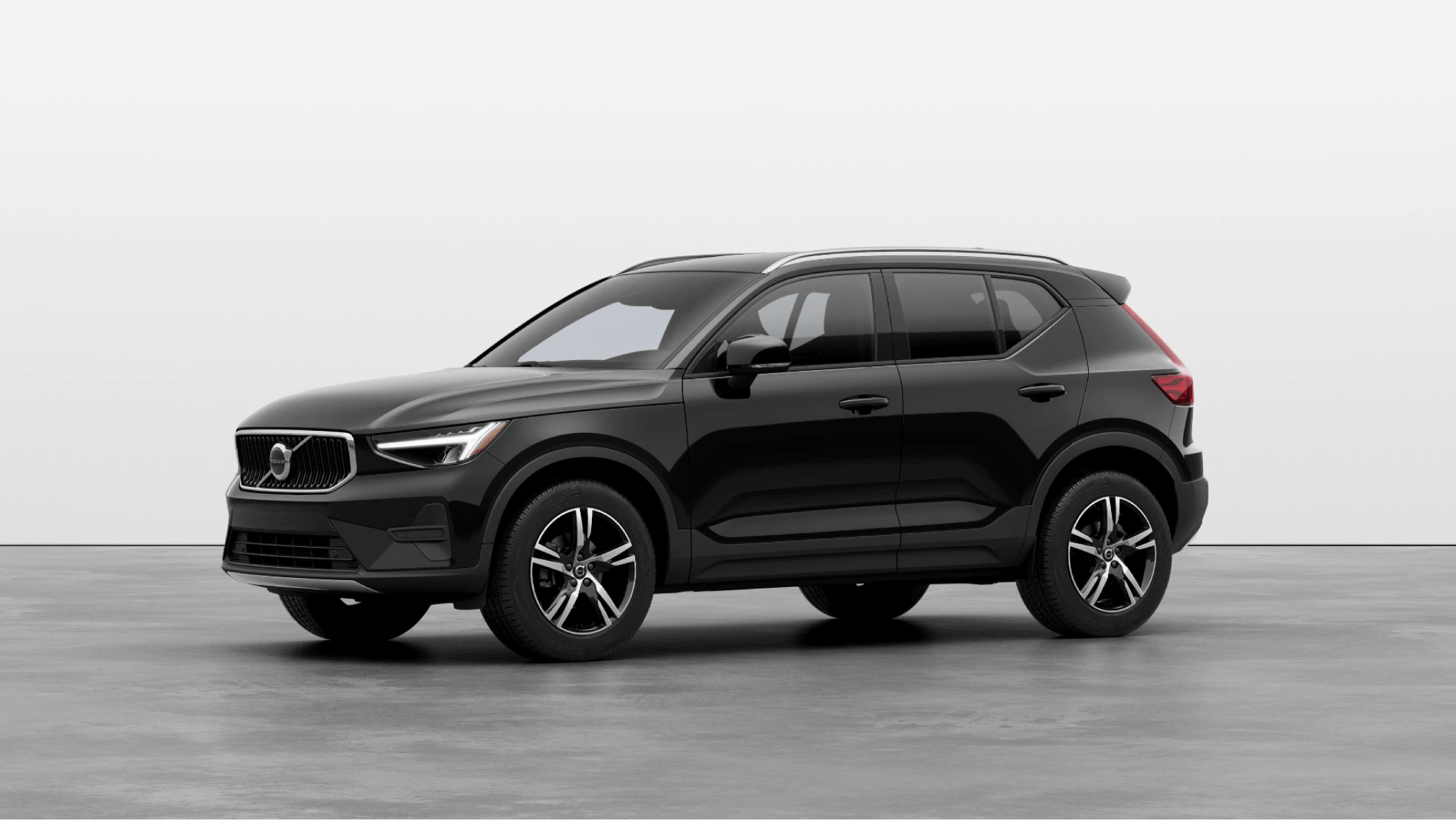 2023 Volvo XC40 Safety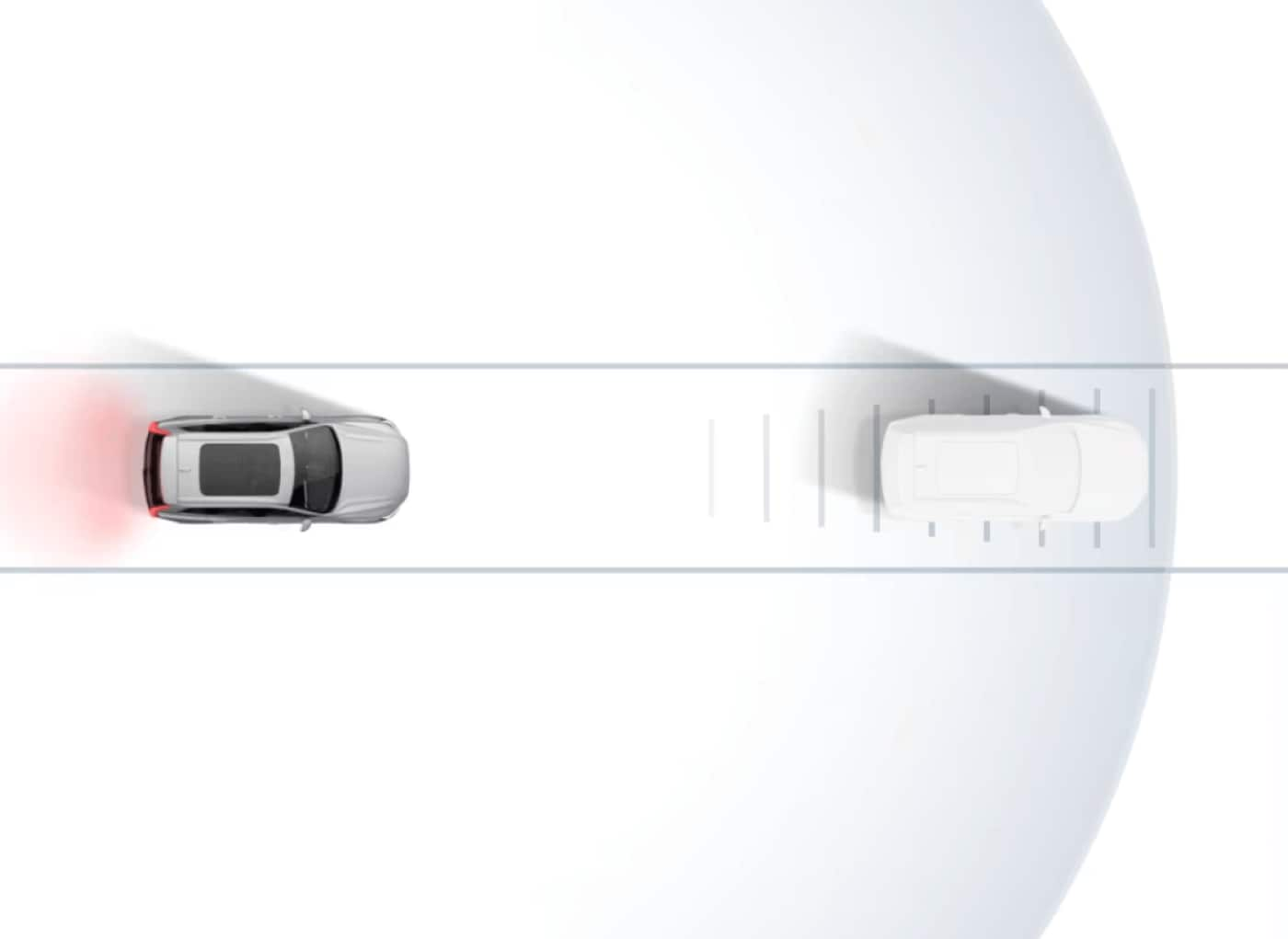 Volvo XC40 Driver Assistance
Volvo Cars places significant emphasis on driver safety. To this end, the company includes a wide variety of driver assistance features on every Volvo XC40. You'll find the following technologies in your new luxury SUV:
Lane-keeping assist
Oncoming lane mitigation
Blind-spot information system with rear cross-traffic alerts
Rain sensor
Road sign information reading technology
These features work hard to try and keep you and your loved ones safe on the roads near Orlando, FL. While they can't substitute for careful driving, they do help you manage the uncertainties that come with taking to the streets or highways in a vehicle. Upper-level models have additional features, such as adaptive cruise control.
Volvo XC40 Reliability
Volvo vehicles are well-known for being durable and well-designed. The turbocharged 2.0-liter engine beneath the hood of your new Volvo XC40 is not overly complex: If something goes wrong, your mechanic should not have trouble figuring out what the issue is. Since every vehicle encounters issues after a few years on the road, ease of repair is an important component of reliability.
You'll find this dedication to driver ease to be present on every one of our new Volvo cars. The Volvo lineup includes something for everyone, ranging from the sporty Volvo S60 executive sedan to the three-row Volvo XC90 luxury SUV. Please don't hesitate to contact us to discuss the Volvo XC40 price or any other topic relating to these dynamic vehicles.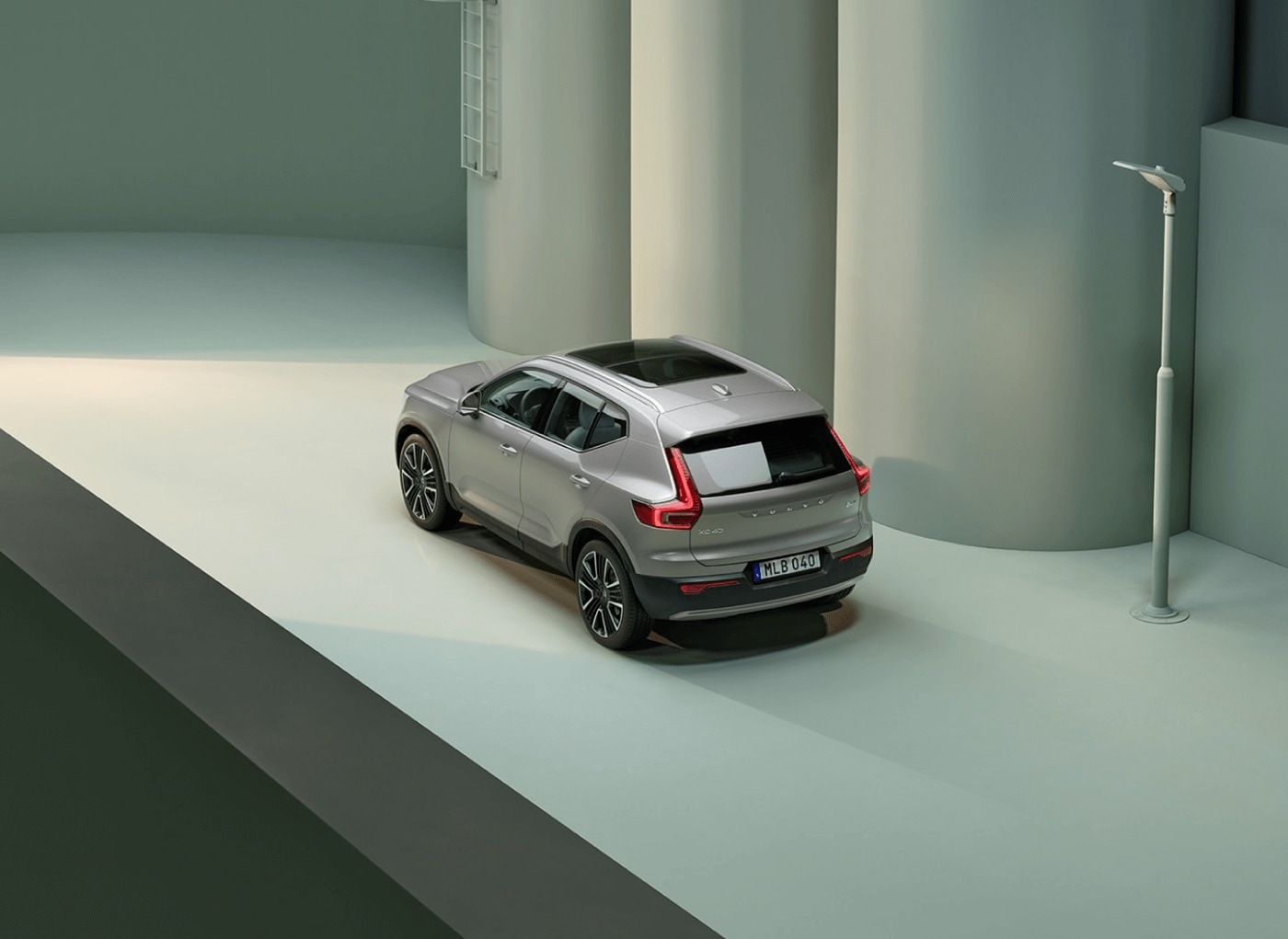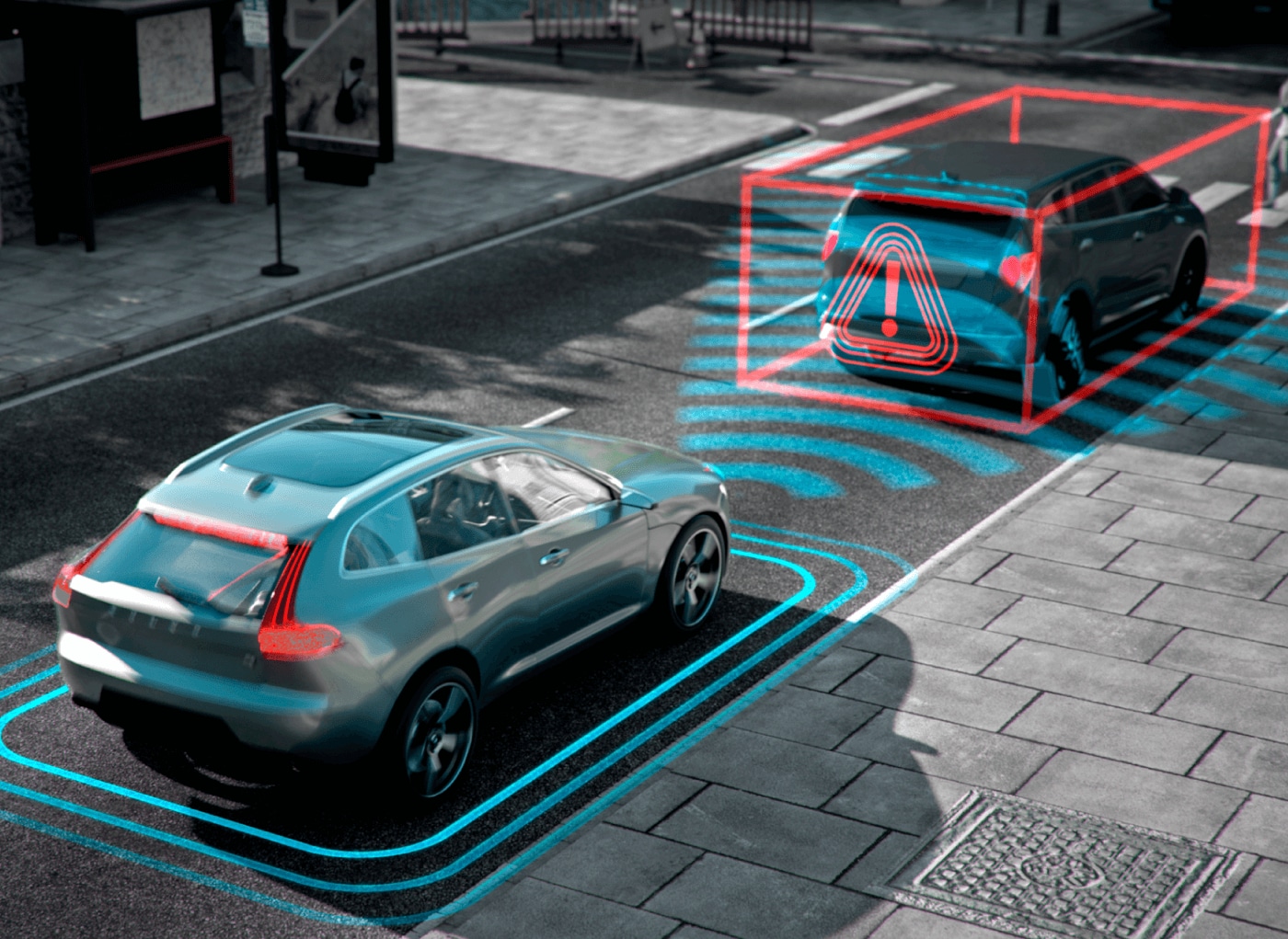 Volvo XC40 Park Distance Control
Every model of the Volvo XC40 comes with parking assistance technology and a rearview camera to make backing up easy. The Ultimate model even features a 360-degree view camera, which changes the parking game completely. The base model has sensors at the back of the vehicle that help you determine when you're getting close to a wall or another car. A warning sound begins as you approach an obstacle and increases in frequency if you move closer to it.
The mid- and upper-tier trims extend the location of these parking sensors. The Plus model has them in the front and back, while the Ultimate model adds sensors to the sides as well. This technology will help you avoid scrapes and bumps as you navigate the parking lots in Daytona Beach, FL.
2023 Volvo XC40 Warranty and Maintenance
Volvo XC40 Warranty Information
Your new Volvo XC40 for sale enjoys four years or 50,000 miles of limited warranty coverage, whichever comes first.4 You also get a powertrain warranty with the same time and distance specifications. This is rather comprehensive coverage, allowing drivers to get behind the wheel of their new luxury vehicle with a friendly passenger – peace of mind. Your warranty coverage also includes four years of roadside assistance, with no mileage cap.4
The 2023 Volvo XC40 blends efficiency with luxury and muscle. We understand, however, that some drivers prefer to purchase an older vehicle to help them save some money. A used Volvo XC40 is perfect for folks in this position.
Volvo Factory Scheduled Maintenance
Volvo Cars offers its Factory Scheduled Maintenance program with the purchase of any new vehicle. Your first three maintenance visits – at 10,000, 20,000, and 30,000 miles – will be covered by this program, provided you bring the vehicle to a qualifying Volvo dealer and follow the other rules laid out for the Factory Scheduled Maintenance plan.4
One of the biggest commitments of vehicle ownership is maintenance and repairs. One way to get around this is to lease instead of buy. Leasing, in short, sees you rent a brand-new car from a dealership for a set period, usually three years. Our Volvo lease specials make it easy to get behind the wheel of a sleek new Volvo automobile.
2023 Volvo XC40 vs. the Competition
The new Volvo XC40 for sale at our dealership near Orlando, FL, is not the only two-row luxury SUV on the market. The first competitor we'll take a look at is the Lexus NX. The first thing many reviewers note about this vehicle is that it's simply not that fun to drive. Its top-tier powertrain options pale compared to those of the Volvo XC40, and the cabin lacks the sound-deadening that one expects on a luxury vehicle. The 2023 Volvo XC40 wins this matchup handily.
The next vehicle to consider is the Mercedes-Benz GLA. The car is roomy and luxurious, but it does not have nearly as many standard safety features as the Volvo XC40. We think that peace of mind on the road is key – this round goes to the Volvo XC40.
The Audi Q3 has more safety features than the Mercedes-Benz GLA, but its top-tier engine isn't even as powerful as the Volvo XC40 B5 powertrain, let alone the T8 eAWD configuration on the Volvo XC40 Recharge.
Finally, the BMW X1 comes to the plate. Its entry-level engine is more powerful than the B4 engine for the Volvo XC40, but at 241 horsepower is more than 50 horses short of the B5 configuration. The BMW X1 also has awkward climate controls and a less refined infotainment interface. The Volvo XC40 offers drivers more comfort and better handling.
Thank you for reading our Volvo XC40 review. Our whole team hopes you found it to be helpful and that you'll join us at our dealership in Daytona Beach, FL, for a test drive of our new Volvo XC40 for sale.
Volvo XC40 FAQ
When can I order the 2023 Volvo XC40?
The Volvo XC40 is available to order today. You can go online and design your own vehicle from the bottom up, after which point it will be shipped to your designated Volvo dealer. On the other hand, you can visit our dealership near the Palm Coast today in order to check out the new Volvo XC40 for yourself – buying in person is faster than ordering online.
What colors does the 2023 Volvo XC40 come in?
The new Volvo XC40 comes in nine different colors. Your choices are:
Black Stone
Onyx Black
Fusion Red
Thunder Grey
Fjord Blue
Silver Dawn
Bright Dusk
Crystal White
Sage Green
These options include something for everyone. Whether you prefer to stand out or to fly under the radar, there is a Volvo XC40 paint shade for you.
Will the 2023 Volvo XC40 be redesigned?
The Volvo XC40 has been overhauled for the 2023 model year. It no longer has any gasoline-only powertrain options; instead, the vehicle is now available as a mild-hybrid or an all-electric automobile, called the Volvo XC40 Recharge. Every version of the car offers excellent fuel economy, dynamic performance, and a wide range of luxury features.
What are the different trims of Volvo XC40?
There are three trims available for the Volvo XC40: Core, Plus, and Ultimate. Each version of the muscular SUV offers great value for your money between its plentiful safety features, roomy interiors, and fuel-efficient powertrains. Visit our dealership near Orlando, FL, today to test-drive any trim of the sleek new 2023 Volvo XC40.
Is Volvo XC40 expensive to maintain?
The Volvo XC40 is not especially expensive to maintain. First off, you'll enjoy incredible warranty coverage and Factory Scheduled Maintenance when you buy one of these vehicles from Volvo Cars, which defray your expenses. Secondly, the vehicle is designed to be durable and long-lasting. Your Volvo XC40 should serve you well for many years to come.
Volvo XC40 Reviews
Mike Parker
17.02.2022

Came into the store to inquire about an XC40. They did not have the one I viewed online but found a near match at another store. Got to Daytona in one day and installed my hitch and had it ready to go the next day. Got the trade amount I expected and am very happy with the dealership and the customer sales representative Eddie Shakelford. All employees there seem to go the extra mile to please the customer. Thanks to all. Wish I could remember all the other names. Came back in January and bought a second XC40 for my wife. Same great sales and service.

Sharon Sullivan
18.01.2022

I highly recommend working with Andrew Bossard at Gunther Volvo Daytona Beach! While waiting for my XC40 to be serviced, Andrew graciously offered to see how he could get me into an upgrade at a reasonable price. Andrew is extremely knowledgeable and was very thorough and attentive in answering all my questions. He worked his magic and I drove away two days later in a gorgeous brand new XC60 that I LOVE at an exceptional price. The process could not have been easier, and Andrew took great care to ensure I knew exactly how to work all the new features, he reconfigured the app for me, filled my new car with gas and was just an absolute joy to work with. Not only is Andrew amazing, but I also had an extraordinary experience with the service team. Kevin the manager also went above and beyond to provide the best customer service. Not only did he assist me with my service appointment but he helpfully took the time to walk me out to give me some excellent additional tips about my new car. I have been and will continue to highly recommend Gunther Volvo to everyone we know, and will remain a loyal customer for years to come!!

Explore Our Other Volvo Models
---
1Prices shown are Manufacturer's Suggested Retail Price (MSRP), Base Price or Starting At price and excludes destination fees, taxes, title, license, and registration and/or electronic filing fees, dealer fees.
2Volvo Valet is only available at participating retailers.
2Loaner vehicles are subject to dealer availability and policies.
3For more information, please visit the official US government source for all fuel economy at www.fueleconomy.gov.
4Warranties listed on this web page shall not be solely relied upon. Warranties may be subject to specific terms, restrictions, exclusions, and fees. Additional warranty information may be obtained by visiting the official website of the warranty provider. Contact our dealership for complete details.
5This is an electric vehicle. Since electricity is not measured in gallons, a conversion factor is used to translate the fuel economy into miles per gallon of gasoline equivalent (MPGe). EPA-estimated 92 city/79 highway/ 85 combined MPGe. Use for comparison purposes only. Your MPGe will vary for many reasons, including but not limited to, driving conditions, how and where you drive, how you maintain your vehicle battery-package/condition, and other factors. For more information, including information on MPGe, see www.fueleconomy.gov.