2023 Volvo XC90 For Sale In Daytona Beach, Near Orlando, FL

Expand or Narrow Your Volvo Inventory Search Using These Convenient Quick Links:
*While we make every effort to provide you the most accurate, up-to-date information, occasionally, one or more items on our website may not represent actual vehicle (Car Availability, Mileages, Equipment, Options, Color and Prices may vary due to the involvement of other vendors and human error).
What's New on the 2023 Volvo XC90?
The gasoline-only powertrains we saw on the 2022 Volvo XC90 and older models have gone away for the 2023 version of our sleek new Volvo XC90 for sale. Volvo Cars is committed to electrification, which has significantly impacted their entire selection. For example, the Volvo XC90 is now available as a mild or plug-in hybrid luxury SUV.
The available trims have also been overhauled for the 2023 model. No longer do we have the Volvo XC90 Momentum, Inscription, or R-Design. Now, the Core, Plus, and Ultimate trims are available to drivers in Daytona Beach, FL. The 2023 Volvo XC90 is powerful and comfortable, just like previous versions. Read on to learn more about this excellent vehicle and check out our Volvo XC90 reviews.
2023 Volvo XC90 Design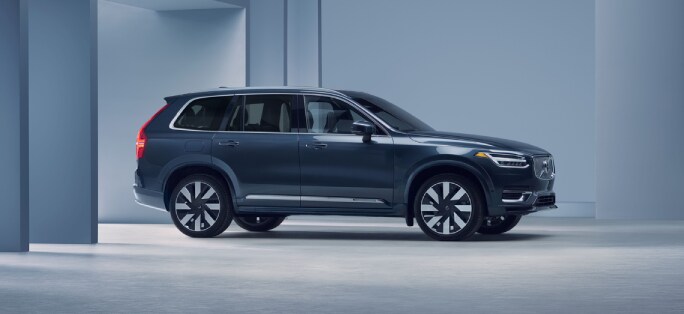 Exterior Design
The body shape and lines of the new Volvo XC90 for sale are bold and striking. Everyone who sees your new luxury SUV will be tempted to comment on just how appealing the vehicle really is. The car comes with gleaming chrome exterior elements that look stunning in the sunlight. Drivers who like eco-efficiency and prefer to pass unnoticed can, however, trade out the chrome for glossy black vehicle accents by opting for the Dark theme that is available for the Plus and Ultimate trims in the Volvo XC90 Recharge variant.
Interior Design
Where the outside of our new Volvo XC90 for sale looks striking and bold, the interior is designed to be inviting and warm. The seats are engineered for complete comfort. The front row is heated, even on the base model. The cabin of the Volvo XC90 is a study in simplicity; Volvo Cars embraces a minimalist aesthetic that stems from the company's Scandinavian origins. This does not mean that the car is bare-bones, however. As we will discuss more below, the interior is packed with cutting-edge technology and creature comforts.
The 2023 Volvo XC90 can seat up to seven people: two in the front, three in the center, and two in the back. You can, however, opt to replace the middle bench row with a pair of captain's chairs. This reduces the seating capacity to six, but it makes it easier for folks to get in and out of the back row. Volvo Cars leaves the choice up to you.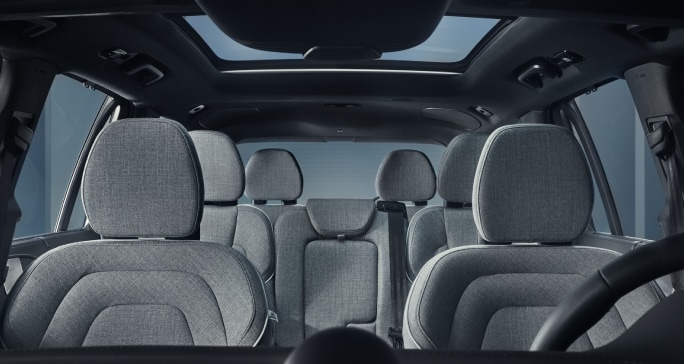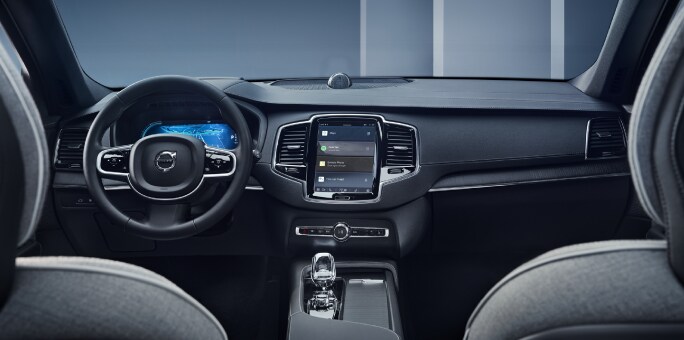 Peak Comfort
Every version of the new Volvo XC90 boasts sleek leatherette or leather upholstery that is truly pleasant to relax on. Automatic four-zone climate control will keep everyone toasty or chilly, as they prefer. Once you've turned the vehicle off, the after-run climate system will see that the cabin space remains comfortable. As we noted above, every iteration of the new Volvo XC90 for sale features heated front seats to keep you warm on chillier mornings. The Plus trim adds a heated second row, and the new Volvo XC90 Ultimate boasts ventilation for the front seats, too.
The front seats of the Volvo XC90 are powered, allowing you to perfect your seating position without messing with any bars or levers. Powered lumbar support will try to keep your back in good shape, even on long drives. You and your family will be supremely comfortable as you ride about in your new Volvo XC90 luxury SUV in Daytona Beach, FL.
Available Accessories
There are a number of genuine Volvo XC90 accessories and options packages available for this sleek SUV. Load bars allow you to carry more cargo, or items like a bicycle, on the roof of your car. The retractable trailer hitch helps unlock the maximum Volvo XC90 towing capacity of 5,000 pounds.1 You can also get all-weather mats for the vehicle's floor to help manage the mud and grime your kids or friends may track into the car.
On the luxury side, you can add a premium 19-speaker sound system to your vehicle and useful features such as a luggage cover. Optional running boards are ideal for shorter folks or those who simply like climbing into their new Volvo XC90 for sale without too much trouble. Customization is the name of the game with this SUV, whether it's a new model or a used Volvo XC90.
2023 Volvo XC90 Technology
Media & Touch-Screen Displays
The new Volvo XC90 comes standard with a 12-inch digital instrument display panel and a nine-inch touch screen that sits between the driver and front seat passenger. The instrument panel displays relevant information, including your speed and remaining estimated travel range. You can customize it to show the information that you want to see.
The touch screen is your entertainment and navigation hub: it lets you easily manage music and directions with its intuitive interface. Volvo XC90 Apple CarPlay® and Android Auto™ compatibility ensures that you can listen to content from your phone from your vehicle.
Volvo automobiles boast integrated Google™ technology that allows you to use your favorite applications and connect your smart devices to your car. Being able to control your other devices from the touch screen in your luxury SUV is connectivity at its finest. If you're ready to start driving this dynamic vehicle, check out our Volvo XC90 lease specials.
Cutting-Edge Technological Features
The 2023 Volvo XC90 comes standard with a sonorous 10-speaker sound system that will blanket your vehicle's cabin in crisp sound, whether you're bumping your favorite album or getting engrossed in your latest podcast. Drivers who really want to crank things up can opt for an available 19-speaker array. Sound will be further boosted by how naturally quiet your cabin is. In addition to protecting the sound waves, your car protects the air in other ways. Its Volvo XC90 air filter takes up to 95% of PM 2.5 particles (dangerous airborne material) out of circulation.
You'll be able to control your music from either the touch screen or the buttons on your steering wheel. This is a very convenient feature to have; you'll be able to skip to the next song without having to take your hand off the wheel. Speaking of convenience, the panoramic moonroof that will bathe the cabin of your car in natural light can be covered by a sunshade with just the press of a button.
The Volvo Graphical Head-Up Display
Volvo Cars is all about innovation. They're no longer selling gaosline-only vehicles in the United States, and the company has pioneered luxury vehicles in a way few other automotive manufacturers can claim. The latest manifestation of the company's design skills is found in the Graphical Head-Up Display that comes standard on the Ultimate trim. It projects navigation directions and other helpful information directly onto the bottom of your windshield, allowing you to stay informed without having to glance away from the road.
Some drivers in Daytona Beach, FL, may worry that this technology will be distracting. Volvo Cars took this into account, however. You can turn it off if you don't like it. The system will also automatically reduce its brightness in accordance with lighting so as not to be distracting. You'll feel like you're piloting a spaceship when you start driving a 2023 Volvo XC90.
Connectivity With the Volvo Cars App
Your new vehicle is connected in the extreme. You can use the Volvo Cars app to lock and unlock the vehicle, even from half a world away. If you're on a business trip and one of the kids left something in the car, it'll just take the press of a button to solve the problem. Drivers near Orlando, FL, can also use the app to manage the climate control system. As such, you can cool the car down before even setting foot outside.
The Volvo Cars app also allows you to schedule service appointments and monitor the charge level of your vehicle if you're driving a Volvo XC90 Recharge, the plug-in hybrid model. Between the built-in Google™ technology and the Volvo Cars app, you'll be in charge of all your devices, no matter where you are.
2023 Volvo XC90 Performance
| | |
| --- | --- |
| | 2023 Volvo XC90 B5 Core 4DR SUV AWD |
| Starting MSRP4 | $57,095 |
| Engine | Direct Injected Turbocharged Engine |
| Horsepower | 247 hp @ 5,500 rpm |
| Transmission | 8-Speed Automatic |
| EPA-estimated Fuel Economy (Combined)5 | 25 MPG |
| Fuel Tank Capacity | 18.8 gal |
| Fuel Type | Premium Unleaded (Recommended) |
| Storage/Cargo Capacity | 85.7 cu.ft. |
| Towing Capacity1 | 5,000 lbs. |
| Seats | 7 Passengers |
| Dimensions H/L/W | 69.9 in/195 in/84.3 in |
2023 Volvo XC90 Trims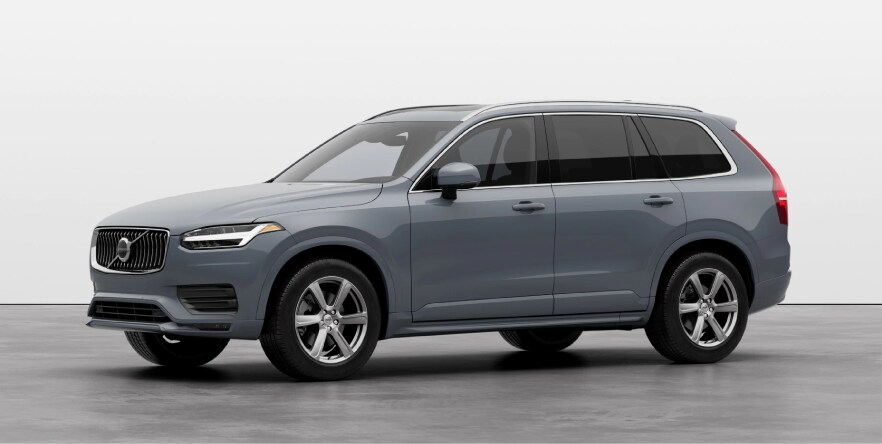 Volvo XC90 Core
---
The Volvo XC90 Core may be the base model of this sleek luxury SUV, but it is full of cutting-edge technology and dynamic luxury features. It comes standard with leatherette seats, four-zone climate control, a panoramic moonroof, and a tailored, hand-stitched steering wheel. It, like the following trims, can come with either the B5 or B6 powertrain setup.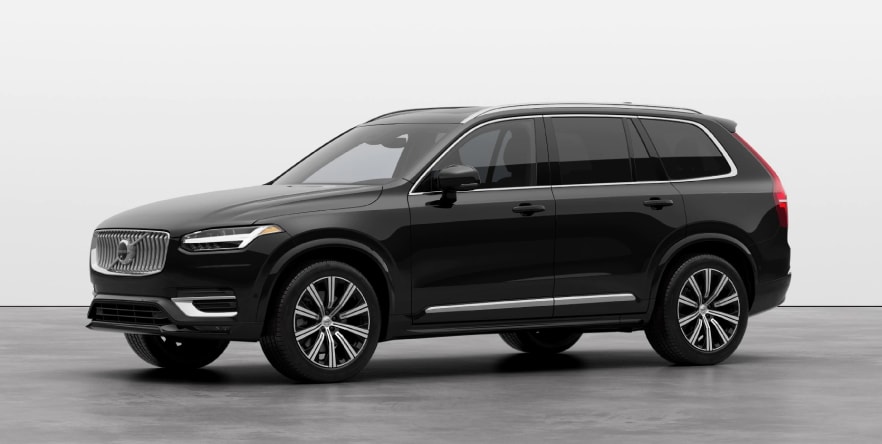 Volvo XC90 Plus
---
The Plus trim is a fantastic step up from the Core model. It adds additional parking assistance technology, bold 20-inch wheels, heated rear seats, and a 360-degree camera to the many features found on the Core trim. It also comes with different styling options if you get the Volvo XC90 Recharge. Pick between the chrome-laden Bright theme or the glossy black Dark theme.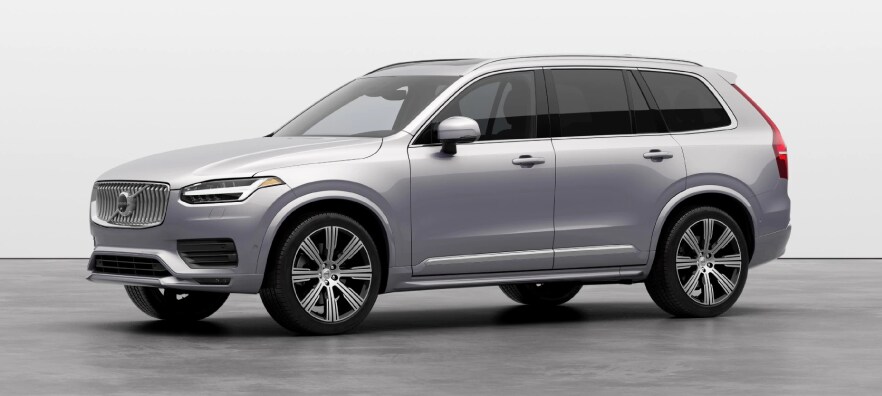 Volvo XC90 Ultimate
---
The top-of-the-line 2023 Volvo XC90 is the Ultimate version of the car. It has a real crystal gear shift, 21-inch wheels, and ventilated Nappa leather upholstery. This iteration of our new Volvo XC90 also boasts the futuristic Graphical Head-Up Display.
2023 Volvo XC90 Colors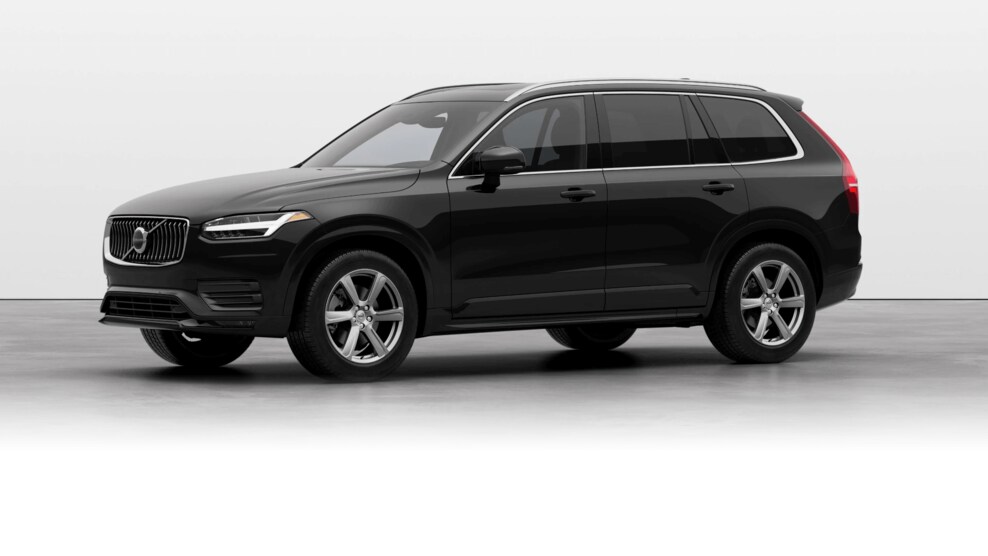 2023 Volvo XC90 Safety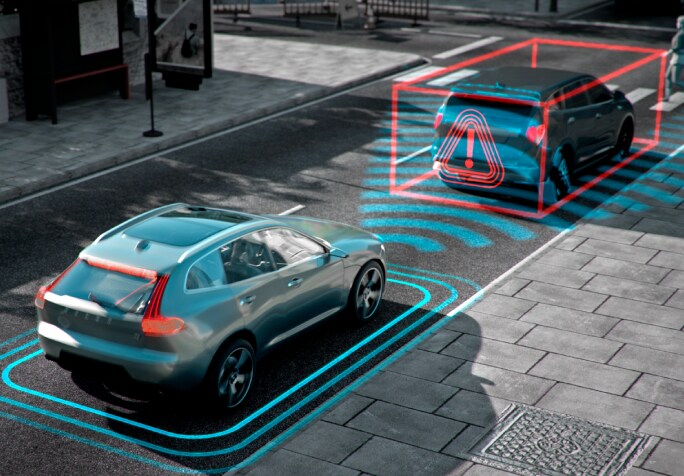 The Dynamic Driver Assistance System
Every model of the new Volvo XC90 for sale features a wide array of standard safety features. Volvo Cars emphasizes safety in their vehicles, and the sweeping range of safety technologies in every Volvo XC90 underscores this commitment. The features include:
Adaptive cruise control
Oncoming lane mitigation technology
Blind-spot monitoring and rear cross-traffic alerts
Rain monitoring system
Road sign reading technology
A rearview camera
Lane-keeping assistance
These powerful technologies will help you stay safe on the roads in Daytona Beach, FL. That said, however, they are not a substitute for reliable and cautious driving. Some of these features will keep you informed of things you need to know — the road sign information system, for example, will help you keep track of the current speed limit — while others will try to protect you when someone makes a mistake on the road.
2023 Volvo XC90 Reliability
Volvo Cars builds vehicles that are meant to last. The turbocharged 2.0-liter four-cylinder engine is not overly complicated and should not need servicing as frequently as the less efficiently built engines found in other comparable vehicles. Premium materials are used in the construction of new 2023 Volvo XC90 SUVs; you won't have to worry about excessive wear after a few years on the roads near Orlando, FL.
Your Volvo XC90 AWD vehicle is built to serve you and your loved ones for years. With regular maintenance and tending to any issues, this car can surpass the 150,000-mile mark. Some tender love and care, combined with a little luck, can even get this vehicle over the 300,000-mile line. This durability is a common feature of every vehicle in our new Volvo Cars lineup.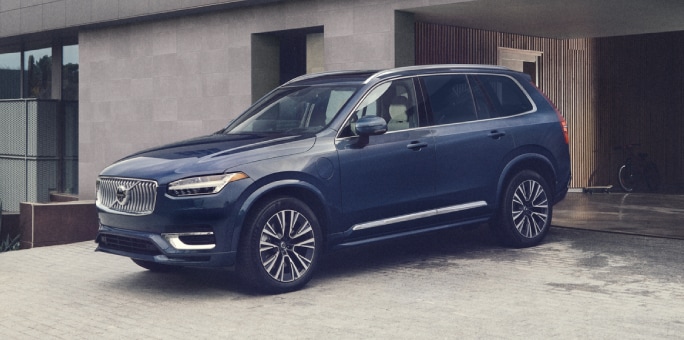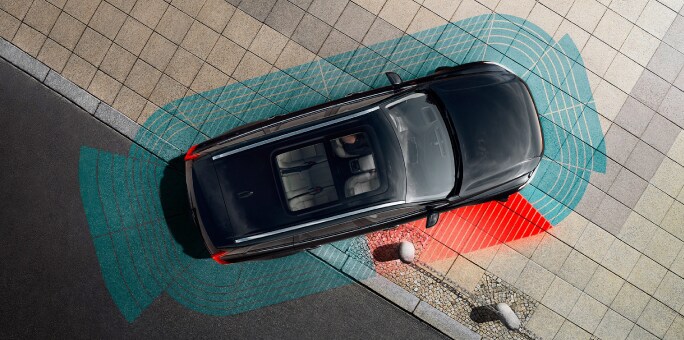 Parking Assistance Technology
While the driver assistance technologies are geared towards keeping you safe on the roads and highways in Daytona Beach, FL, the parking assistance technology aims to save you from dings and scrapes in the parking lot. The Core model has sensors on the front and back of the car that help you avoid pulling too far forward or backward, while the Plus and Ultimate trims have additional sensors on their sides.
The blind-spot monitoring system and rear-cross traffic alerts will help you in the parking lot. If you're trying to pull out of a tight spot and have a hard time seeing what's going on around you, the system can help you identify people crossing behind you. Hopefully, they'll let you out, but having a warning system in place can help you avoid a collision with aggressive drivers.
2023 Volvo XC90 Maintenance & Warranty Information
Volvo XC90 Warranty Information
Volvo Cars offers a competitive comprehensive warranty to those purchasing a new Volvo vehicle. Your new Volvo XC90 for sale will come with a bumper-to-bumper warranty that is good for the first four years or 50,000 miles driven, whichever comes first.2 Once this coverage runs out, you will not be entirely without protection, however.
Your purchase also includes a corrosion protection warranty that runs for 12 years without a mileage cap. This dimension of the warranty covers any rust-caused holes or similar damage to your 2023 Volvo XC90. The Volvo emissions warranty lasts eight years or 80,000 miles, offering protection to emissions-related vehicle parts, including the catalytic converter.2 This incredible coverage lends peace of mind to drivers near Orlando, FL.
Volvo XC90 Maintenance Details
In addition to the excellent comprehensive Volvo warranty coverage that you'll enjoy when you purchase a new Volvo XC90 for sale, you'll benefit from the car's included Complimentary Factory Scheduled Maintenance program. It covers many of your maintenance needs for 36,000 miles or three years, whichever comes first.2 You'll be able to come in for scheduled maintenance three times during the course of this program, during which visits, your active and passive vehicle systems will be thoroughly inspected.
Volvo Cars goes out of its way to offer convenient service options. The Volvo Valet program will see your local servicing dealership pick up your vehicle and drop it off when service has been completed.3 You can even request a loan vehicle to use while your main ride is in the shop. The commitment that Volvo Cars shows to customer service is unparalleled; we try to embody that here at our dealership servicing Orlando, FL.
2023 Volvo XC90 Competition
Volvo XC90 vs. Mercedes-Benz GLE-Class
The Mercedes-Benz GLE-Class is a powerful competitor for the Volvo XC90. It has a turbocharged engine and an optional third row, both of which are draws for the Volvo XC90. However, the Volvo SUV comes standard with three rows. The 2023 Mercedes-AMG GLE-Class also has generally worse fuel economy than the 2023 Volvo XC90 MPG ratings with the B5 powertrain, even when you select AWD.
2023 Volvo XC90 vs. Genesis GV80
Genesis is the luxury brand for Hyundai vehicles. The Genesis GV80 is the company's midsize luxury SUV offering. It has an optional third row, which is nice for drivers who have a lot of kids or friends to drive around. However, it, too, can't beat the Volvo XC90 B5 powertrain setup in terms of fuel efficiency. As such, even if their starting price points are similar, the Volvo SUV will save you more at the gas pump in the long run, thanks to its mild hybrid technology.
Volvo XC90 vs. Porsche Cayenne
The Porsche Cayenne is a two-row luxury SUV that does not have an optional third row. This sets it out on weak footing against the Volvo XC90 from the start. Its base trim is also much more expensive than the 2023 Volvo XC90 Core, despite the fact that they contain comparable luxuries.
2023 Volvo XC90 vs. BMW X5
The final car we will consider today is the BMW X5. It has an optional third row, a step up from the above vehicle. That said, it is thousands of dollars more expensive than the Volvo XC90, though not as much as the Porsche Cayenne. Similarly, while the BMW X5 has nice features like leather seats, these can also be found in the Volvo XC90. Check out our Volvo lease specials if you're ready to drive this sleek vehicle for an even more competitive monthly payment.
Frequently Asked Questions Regarding the 2023 Volvo XC90
Is Volvo Cars changing the Volvo XC90 in 2023?
Our new Volvo XC90 for sale was redesigned for the 2023 model year. Volvo Cars overhauled the selection of available trims, replacing the Momentum, Inscription, and R-Design option with the Core, Plus, and Ultimate trims. The company also introduced mild-hybrid powertrains to this SUV instead of the old gasoline-only options. This helps this vehicle to be more fuel-efficient.
When can I buy a 2023 Volvo XC90?
You can order the new Volvo XC90 today or buy a model off our lot. Ordering a custom model allows you to pick and choose every detail of your vehicle, but then you do have to wait for the car to be built. If you visit us in Daytona Beach, FL, and find a configuration that suits your needs, then you can drive home in your new luxury SUV today.
What are the different trims of the Volvo XC90?
There are three trims available for the new Volvo XC90. The base model is the Core trim, the mid-level choice is the Volvo XC90 Plus, and the cream-of-the-crop iteration is the Ultimate. These trims are available for both the mild-hybrid and the plug-in Volvo XC90 hybrid, called the Volvo XC90 Recharge.
Is it worth buying a Volvo XC90?
Our new Volvo XC90 for sale is an excellent investment for you and your loved ones. This dynamic three-row SUV blends incredible performance potential with fuel efficiency, a luxurious and comfortable interior, and a compelling array of safety technologies. It will also look great in your driveway. Your neighbors will be complimenting you left and right on your purchase.
Is a Volvo XC90 expensive to maintain?
The Volvo XC90 is not more expensive to keep running than other luxury SUVs. In fact, it has one of the most comprehensive — and complimentary — maintenance packages out there, covering you for three years or 36,000 miles, whichever comes first.2 The Complimentary Factory Scheduled Maintenance program will help you defray maintenance costs for your new vehicle.
Volvo XC90 Reviews
Toni Pepe
13.09.2022

My buying experience at Volvo was awesome. It's not often that I would recommend a car dealership, but Gunther Volvo went above and beyond to take care of their customers. I would highly recommend anyone to work directly with Ryan. He followed up multiple times after the sale and even helped set up the mobile application. I am very happy with the team at Volvo, pricing and the XC-90 I bought.

Z Randall Stroope
10.04.2022

We purchased a new Volvo XC90 and Gregory Olchawski was our contact and sales agent at the Volvo dealership. He is impressive in many knowledge areas, but two stood out to us - 1) he is straightforward and honest, and does not press the customer in order to make a sale; he has a strong background in sales from previous experience and is there to serve the customer; and 2) he is well-informed about the dealership inventory, and the idiosyncrasies of each model; I enjoyed his frankness and broad knowledge-base. I recommend him without the slightest reservation.

Timothy Kleinsmith
13.10.2021

Recently purchased our first Volvo from Gunther Volvo in Daytona Beach. We drove down from Jacksonville because not only did they have a better selection but far better customer service.Sam reached out to me quickly and answered all my questions. He got us in for a test drive and 2 days later we picked up our new XC90.All in all, it was the smoothest car buying experience to date. Highly recommend doing business with Gunther Volvo, ask for Sam he will take care of you.

Explore Our Other Volvo Models
---
1When properly equipped.
2Warranties listed on this webpage shall not be solely relied upon. Warranties may be subject to specific terms, restrictions, exclusions, and fees. Additional warranty information may be obtained by visiting the official website of the warranty provider. Contact our dealership for complete details.
3Volvo Valet is only available at participating retailers. Loaner vehicles are subject to dealer availability and policies.
4Prices shown are Manufacturer's Suggested Retail Price (MSRP), Base Price or Starting At price and excludes destination fees, taxes, title, license, and registration and/or electronic filing fees, dealer fees.
5For more information, please visit the official US government source for all fuel economy at www.fueleconomy.gov