New Volvo S90 Sedans For Sale In Daytona Beach Near Orlando, FL

Expand or Narrow Your Volvo S90 Inventory Search Using These Convenient Quick Links:
*While we make every effort to provide you the most accurate, up-to-date information, occasionally, one or more items on our website may not represent actual vehicle (Car Availability, Mileages, Equipment, Options, Color and Prices may vary due to the involvement of other vendors and human error).
The new Volvo S90 for sale at our dealership near Orlando, FL, is a sleek, sporty, and stylish executive sedan that'll turn heads everywhere you ride. For the 2023 model year, Volvo Cars has overhauled the lineup of available trims. The Momentum, R-Design, and Inscription options that many Volvo car fans are familiar with have gone the way of the dodo. Now, we have the Plus and Ultimate options. The plug-in hybrid Volvo S90 Recharge, however, is only available with the top-tier Ultimate trim. No matter the trim, you'll find that the overhauled infotainment system lets you play your favorite songs, albums, or podcasts. Read on to learn more about the Volvo S90 performance potential, features, color options, and more.
The Genius of the 2023 Volvo S90 Design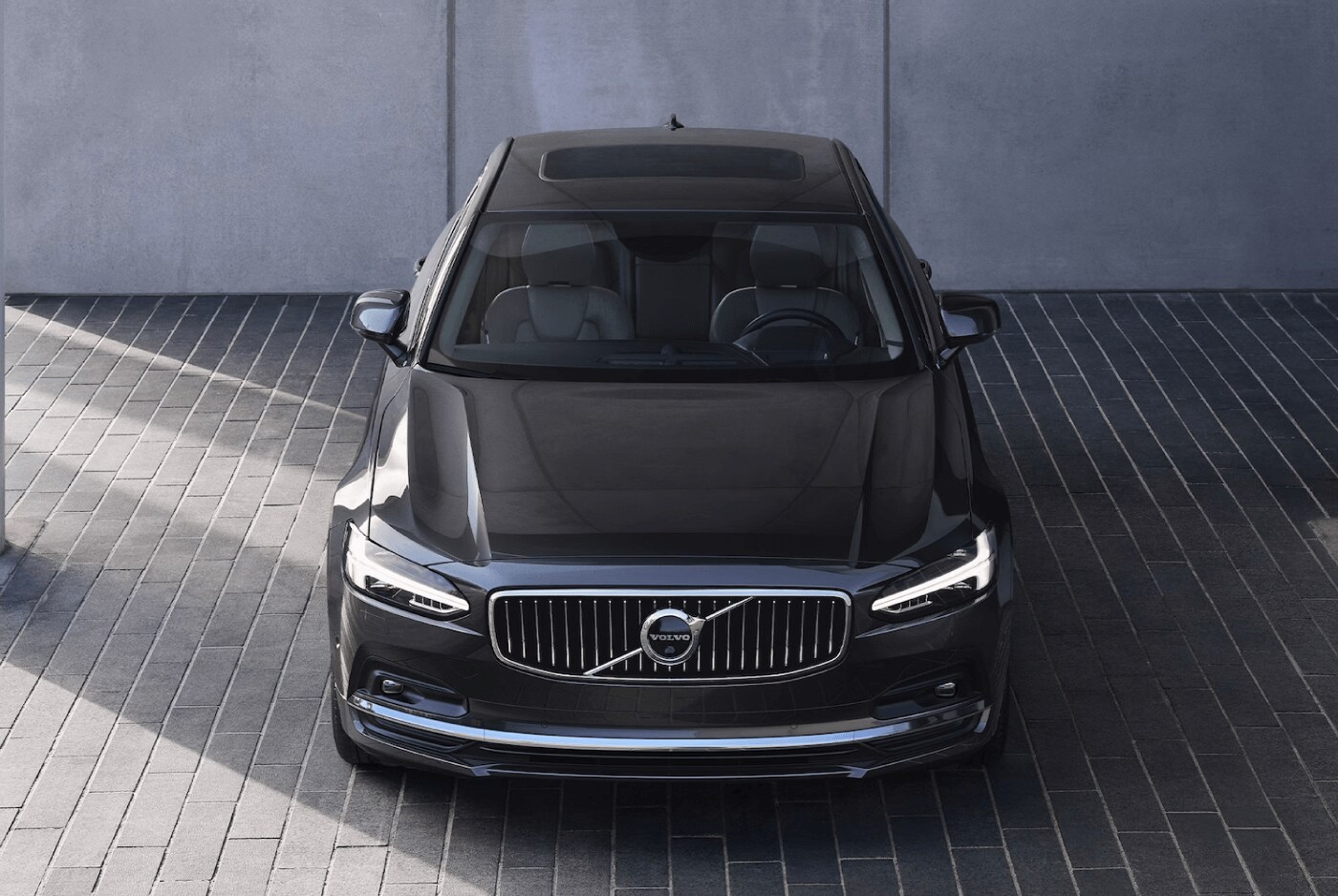 New Volvo S90 Exterior
The body design of the Volvo S90 is that of a sporty executive sedan that can carry up to five people in luxurious comfort. The curves of the car's exterior design are subtle yet pronounced. The eye traces them as it takes in the totality of the Volvo S90 sedan's refined style. Our new Volvo S90 for sale is 57.1 inches tall, 200.4 inches long, and 74.6 inches wide (without the mirrors). The Volvo S90 is big enough that it has a roomy cabin space, but the vehicle is not so long that you'll be forced to make five-point turns where one could otherwise manage it in three.
The 2023 Volvo S90 has several striking exterior features. The bold front grille has a chrome insert and frame that will shine in the sun, catching the eye of passersby. You'll ride high on 19-inch wheels. When designing or picking out a new Volvo S90, you can choose from eight compelling colors, which you will find below. Your friends and family will be envious when they see you behind the wheel of this sporty luxury vehicle.
New Volvo S90 Interior
The Volvo S90 is a full-size sedan, which shows in the car's roomy interior. The Volvo S90 dimensions afford you 37.8 inches of headroom, 57.5 inches of shoulder room, and 42.2 inches of space for your legs in the front seats. Folks in the back row will enjoy 37.8 inches of headroom, 55.4 inches of shoulder room, and 40.4 inches of legroom. Astute drivers will note that there are luxury SUVs on the market today with less legroom than our comfortable new Volvo S90 for sale.
The Volvo S90 can fit five people comfortably and still have space for their luggage. You can put up to 13.5 cubic feet of cargo into the trunk. Since the Volvo S90 is spacious and efficient, many drivers find the vehicle to be compelling. Volvo Cars understands this and has also created the new Volvo S60 to appeal to folks who may want a slightly smaller vehicle.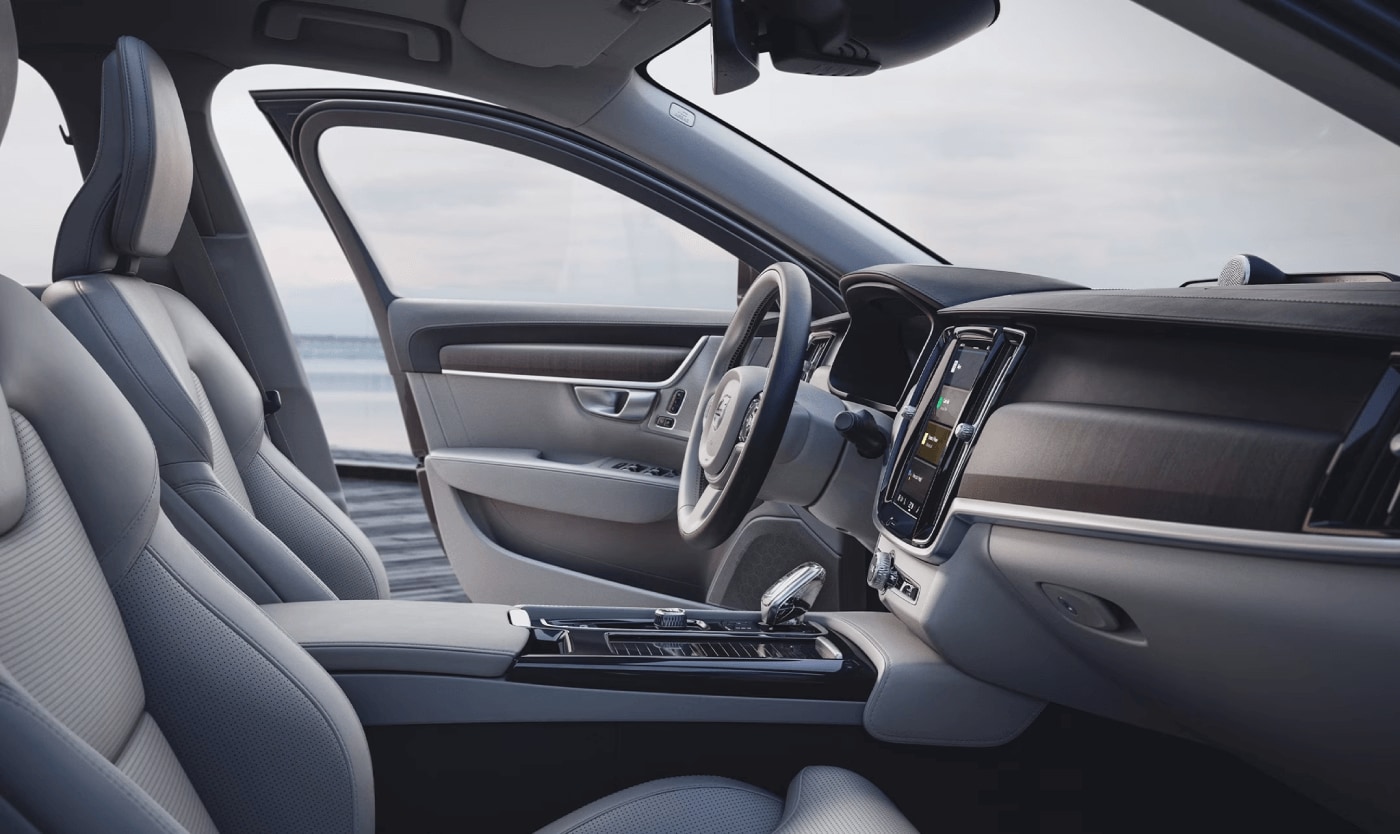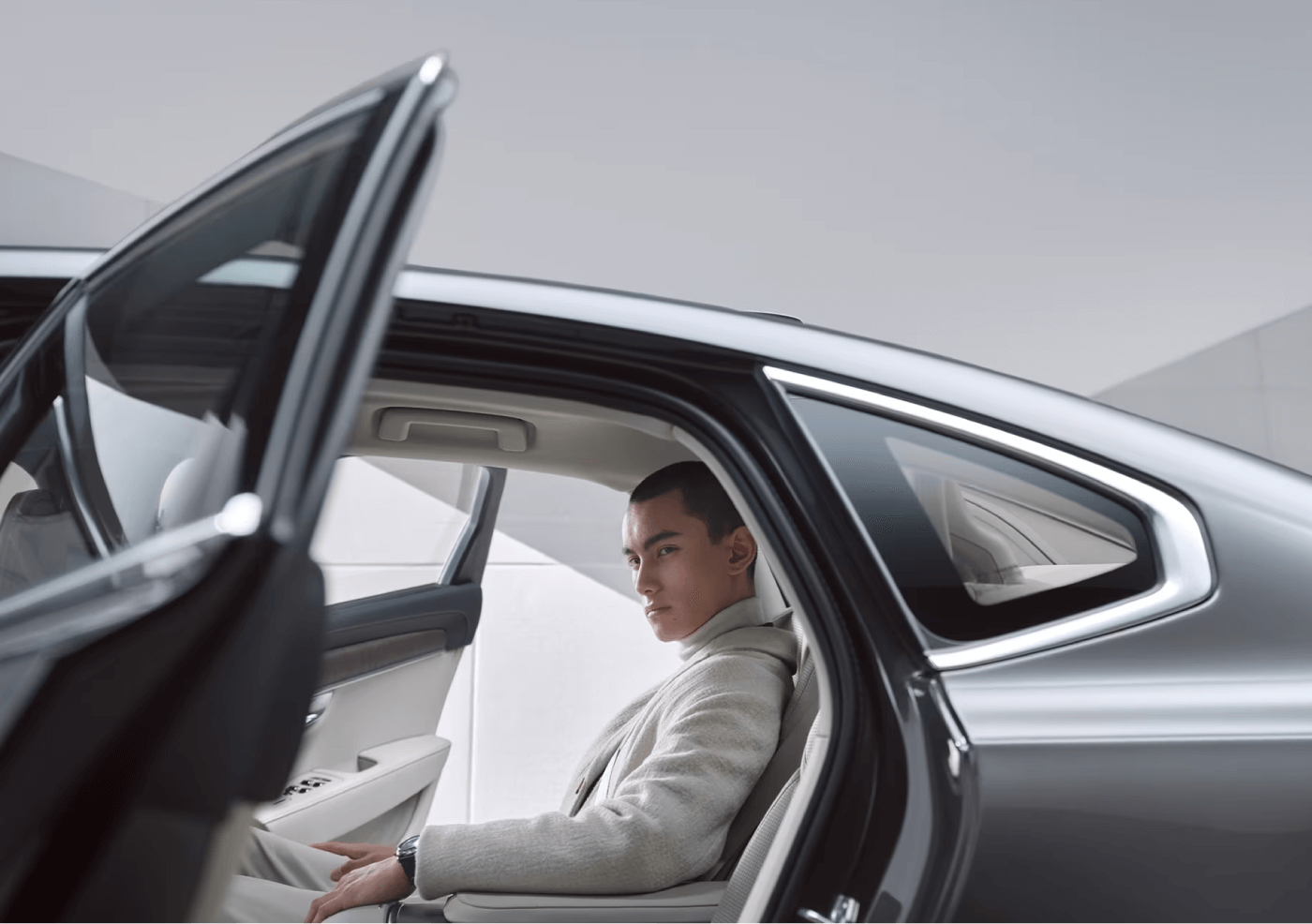 New Volvo S90 Comfort
The base model of the Volvo S90, which is the Volvo S90 Plus, is loaded with features and creature comforts that one can only find on the top trim of some other vehicles – if at all. Many drivers in Daytona Beach, FL, have stayed here or moved here because Florida is sunny and warm. During the winter, however, it can get chilly. The heated front and rear seats and steering wheel in your new 2023 Volvo S90 can help you stay warm, even during the winter months. The vehicle also boasts elegant touches like genuine wooden interior decor and interior illumination that make the Volvo S90 feel quite inviting.
The heated front seats are Comfort Seats, which means that they can be adjusted into an almost infinite number of configurations, allowing you to find the setup that best cradles your body. The seats are powered, and even the back row can be folded down with the touch of a button. The four-zone climate control system in your new Volvo S90 for sale will allow everyone to be warmed or cooled by the vehicle while the air purifier keeps toxins, pollen, and other materials out of your cabin.
New Volvo S90 Accessories
The Ultimate trim of the Volvo S90 is a top-tier option. Drivers near Orlando, FL, can choose to make it even more luxurious by adding the Lounge Package. This set of features includes:
A luxury rear armrest
Ventilated rear seats
Backrest massage
It is the last feature that many folks will find quite compelling. The ability to enjoy a back massage while driving is quite something, especially during a long-haul drive or after a stressful day of work. That said, the rear seat ventilation that keeps the kids cool in the back will also be useful during the muggy summers in Daytona Beach, FL.
The other options package for the 2023 Volvo S90 is available for every car version. The Protection Package Premier includes wheel locks, a first aid kit, rubber floor mats, and a plastic luggage mat. The mats will help you keep your new executive sedan clean. Wheel locks deter theft – and offer you peace of mind. While all of us here at the dealership hope you'll never need the first aid kit, it's better to have it, just in case.
2023 Volvo S90 Technology
Volvo S90 Media Displays
You'll find two digital media screens in your new Volvo S90 for sale. One is a 12-inch configurable driver's display that rests behind the steering wheel. It shows you crucial vehicle details, including estimated remaining driving range and your speed. You can choose between the Navi and Calm display settings. The other screen is a 9-inch touch screen that allows you easy access to music and navigation controls.
Built-in Google technology powers the Volvo S90 infotainment system. You can access Google Maps to handle directions or use the built-in Volvo S90 Apple CarPlay® to choose your own navigation app from your cell phone. The car has cutting-edge technology that syncs your smartphone with the vehicle, allowing you access to your favorite tunes and podcasts with the infotainment interface.
Volvo S90 Features
You and all of your passengers will adore the vehicle's laminated panoramic moonroof. This feature allows sun rays to stream into your luxury sedan's interior during the day. At night, everyone who isn't driving can use the moonroof as a portal to the universe, taking in the moon and stars. There is a motorized shade, allowing you to open and close it with the touch of a button.
Where the moonroof comes on every version of the car, the Volvo Graphical Heads-Up Display is reserved for the Ultimate trim. This feature is something out of a science fiction movie. It projects directions and other useful vehicular details right onto the bottom portion of your windshield. You'll be able to get directions without having to look away from the road. If you've got a date, they'll be quite impressed by this sleek piece of technology.
The Volvo Cars App
When you purchase one of our new Volvo cars, it will come with access to the Volvo Cars App. This marvelous program offers a wide range of functionality to drivers near Orlando, FL. You can use the app to set the temperature in your vehicle remotely – even allowing you to start the car before you're in it, provided it has that technology – and to lock and unlock it from a distance. The app also allows you to check the vehicle's location.
The Volvo Cars App functionality does not end there. You can also manage the care and maintenance of your new luxury 2023 Volvo S90 through this application by setting service appointments in the app. The Volvo Cars business model centers around customer convenience. That's why some dealerships offer the Volvo Valet program, which will see employees pick up your car and bring it back to you once your maintenance has been completed.1 You can even request a loaner for the interim.2
2023 Volvo S90 Specs and Performance
| | 2023 Volvo S60 B5 FWD |
| --- | --- |
| Starting MSRP3 | Starting at $41,300 MSRP |
| Engine | Direct Injected 2.0-Liter Turbocharged Engine |
| Horsepower | 247 hp |
| Torque | 258 lb-ft |
| Transmission | 8-Speed Automatic |
| Fuel Economy Combined1 | 30 |
| Fuel Tank Capacity | 15.9 gal. |
| Fuel Type | Gasoline |
| Storage/Cargo Volume | 11.6 cu.ft. |
| Towing Capacity (When properly equipped) | 2,000 lbs |
| Seats | 5 seats |
| Dimensions H/L/W | 56.6 in./187.4 in./80.3 in. |
2023 Volvo S90 Trims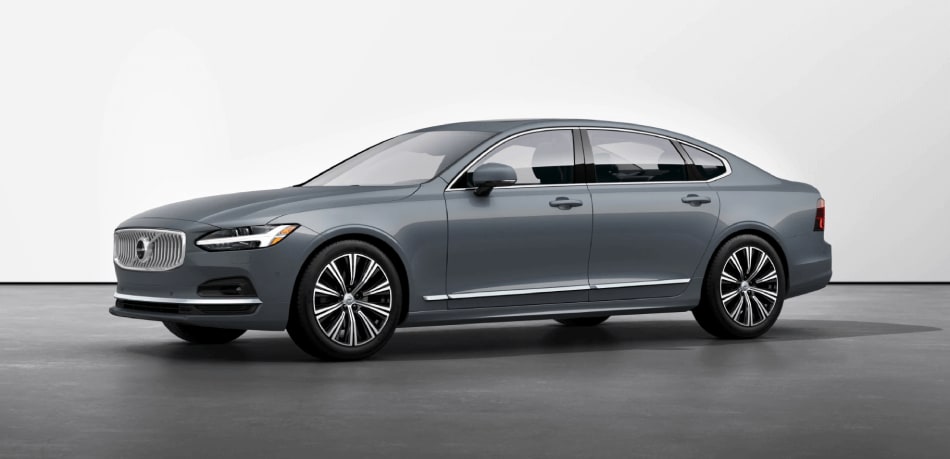 Volvo S90 Plus
---
The base model of the new Volvo S90 is elegant and full of luxury features. When you opt for this model, you'll enjoy a heated steering wheel, four-zone climate control, and heated front and rear seats. The vehicle also boasts a laminated panoramic moonroof, leather upholstery, and genuine wood interior accents. The new Volvo S90 for sale is a compelling option for drivers in Daytona Beach, FL.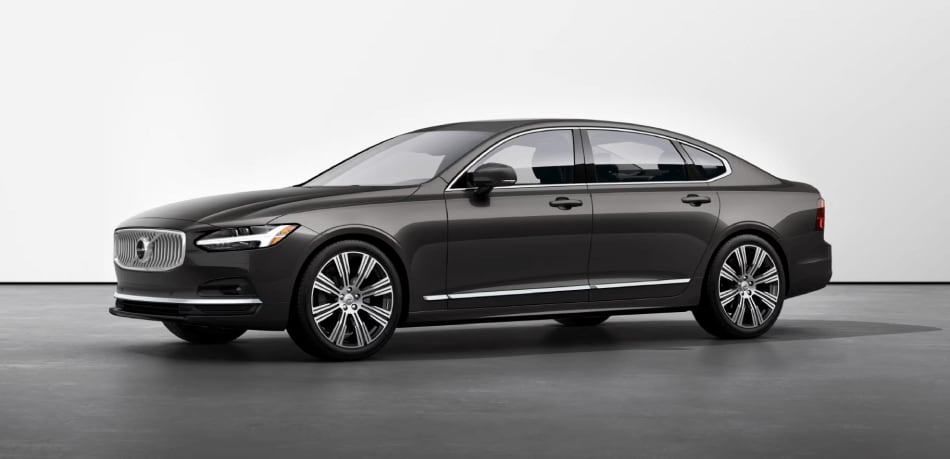 Volvo S90 Ultimate
---
The Ultimate trim has several upgrades compared to the entry-level model. The leather upholstery of the Plus trim gives way to Nappa leather, which is ventilated in the front seats. As we discussed above, the Ultimate trim also includes the Volvo Graphical Heads-Up Display, a futuristic technology that projects navigation details right onto your windshield.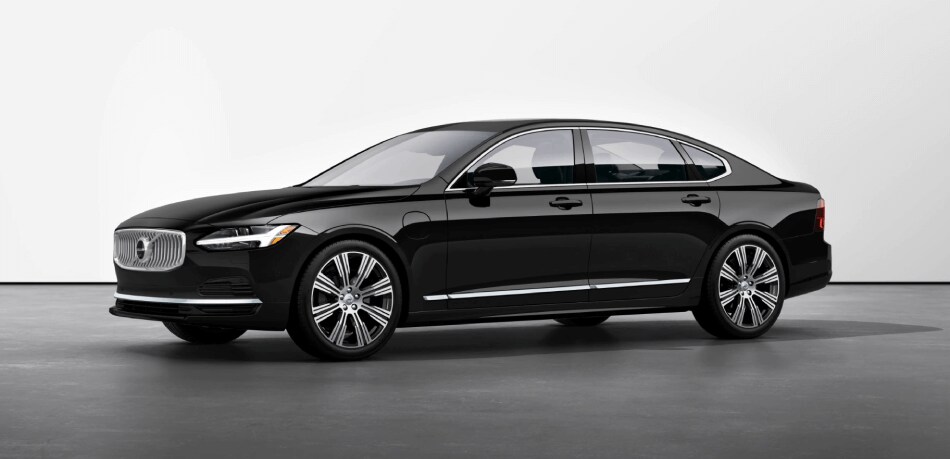 Volvo S90 Recharge Ultimate
---
Where the above two trims are mild-hybrid vehicles, the Volvo S90 Recharge is a plug-in hybrid luxury vehicle. The car enjoys an incredible EPA-estimated 66 MPGe (Combined).5 The plug-in hybrid powertrain pairs a supercharged and turbocharged 2.0-liter engine with an 18.8-kWh battery-and-motor system to make 455 horsepower and 523 pound-feet of torque. This option is muscular and efficient.
2023 Volvo S90 Color Choices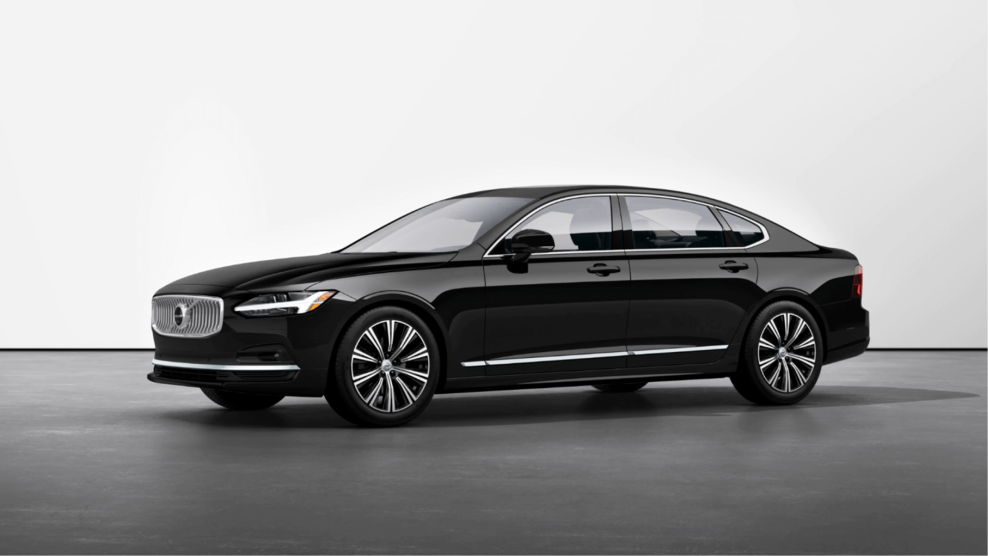 2023 Volvo S90 Safety Features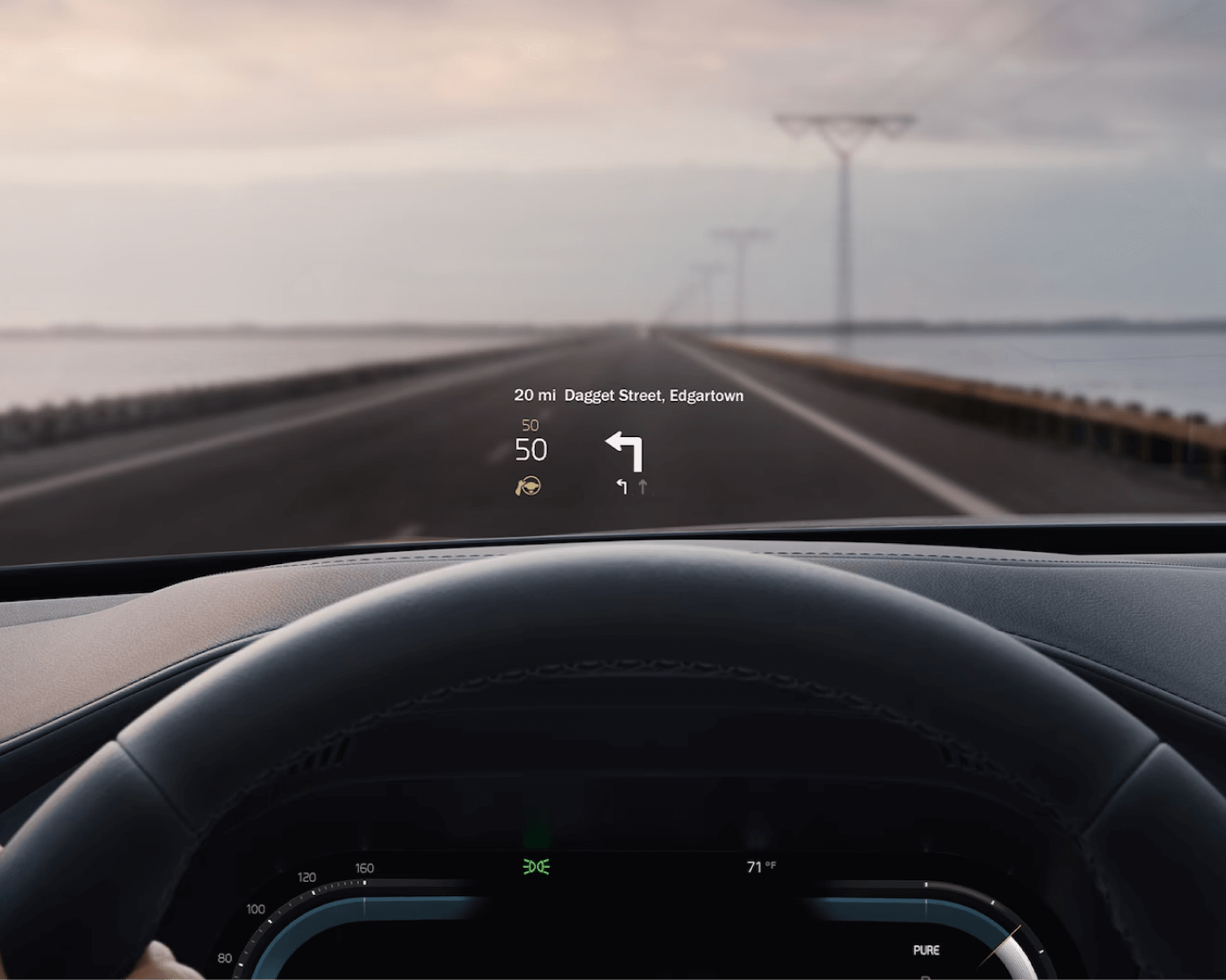 Volvo S90 Safety Technologies
The new Volvo S90 for sale comes standard with an impressive suite of cutting-edge safety features. Adaptive cruise control makes it easier to keep your place in highway traffic, while the blind-spot system, with its integrated rear cross-traffic warnings, will help you keep track of the vehicles around you. Lane-keeping assistance and oncoming lane mitigation work to help you stay between the lines. Other features include:
Pilot Assist
Road-sign information system
Post-impact braking
These comprehensive safety features will work hard to try and keep you and your loved ones secure on the roads and highways near Orlando, FL. You cannot rely solely on them to stay safe – cautious driving is still the best way to go – but these modern technologies can help you navigate the dangers of the road. If you're ready to get behind the wheel of a sleek 2023 Volvo S90, you'd do well to consider our Volvo lease specials. These deals make it easier to start driving a new luxury car without all of the hassles of vehicle ownership.
Volvo S90 Reliability
Volvo automobiles are well-known for being dependable and well-built. Volvo Cars, true to the company's Scandinavian roots, built a vehicle that will generally last for many years on the road. The turbocharged and supercharged 2.0-liter four-cylinder engine in your new Volvo S90 is also used by other Volvo vehicles; parts for it should not be terribly hard to find. The vehicle is designed to be pretty easy to service, which makes it easier to keep the car on the road.
The 2023 model of the Volvo S90 is not the only Volvo car that is durable and long-lasting. Volvo vehicles, in general, are known for this. A used Volvo S60, for example, is generally an excellent option for motorists who are searching for a dependable and luxurious machine. Visit us today for a test drive in Daytona Beach, FL.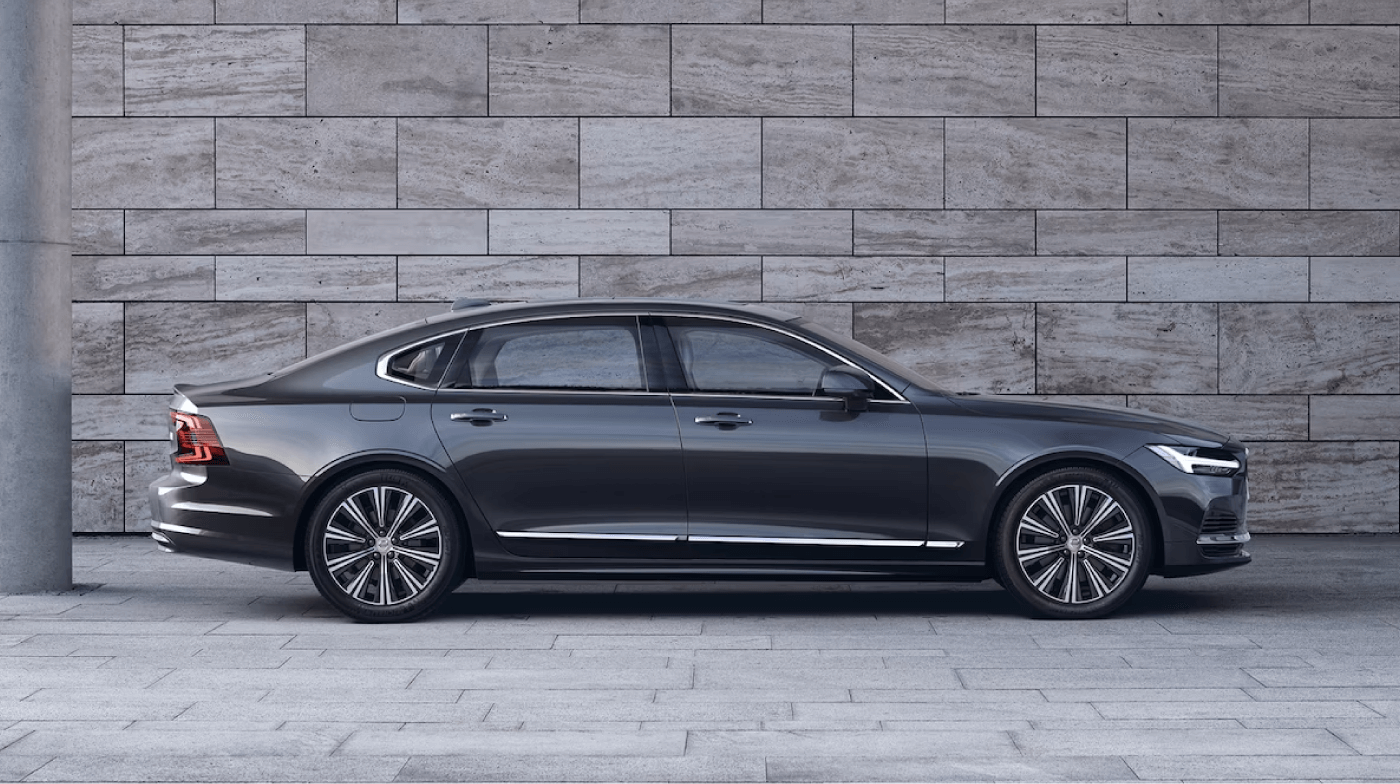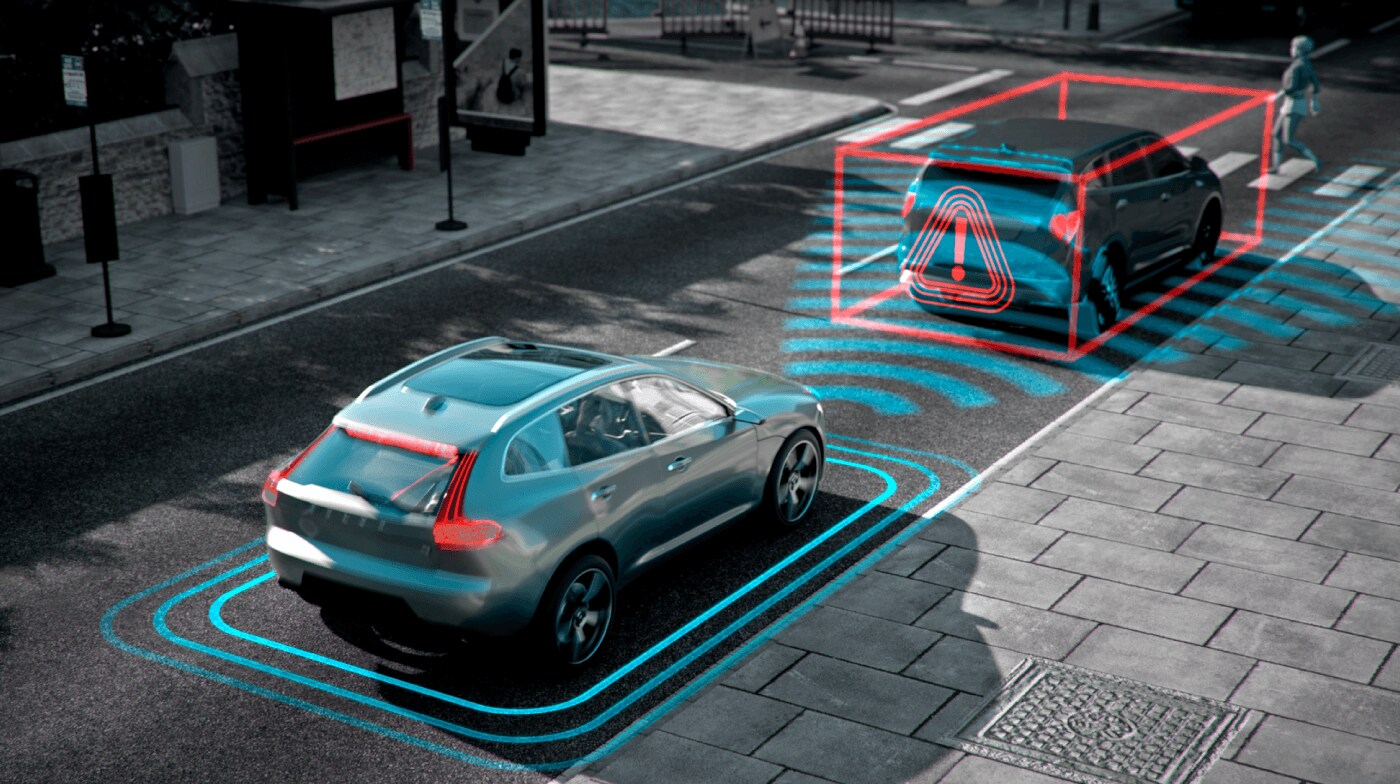 Volvo Park Assist
The Park Assist feature on your new Volvo S90 for sale makes it easier to park in tight spots and to avoid scraping up your new luxury sedan. When you back up, the Park Assist feature will kick on and begin emitting a pulsating sound. As you approach an obstacle, the sound's frequency increases. The Volvo S90 will automatically brake if you come too close to the object in question.
The 2023 Volvo S90 has ultrasonic sensors for this feature in its front, back, and sides. This coverage makes parking easier without getting any scrapes or dents in your vehicle, even in the close quarters of some of the parking lots near Orlando, FL. The Volvo S90 can help you slide into the spot if there are two heavy-duty trucks and just a narrow space between them.
2023 Volvo S90 Warranty and Maintenance Coverage
Volvo S90 Warranties
Your new Volvo S90 for sale enjoys excellent warranty coverage. The vehicle comes with a limited bumper-to-bumper warranty lasting four years or 50,000 miles, whichever comes first.6 Volvo Cars also gives drivers of a new Volvo S90 a powertrain-specific warranty lasting for four years or 50,000 miles driven, whichever comes first.6
There is also an emissions systems warranty lasting eight years or 80,000 miles, whichever comes first.6 You'll enjoy 12 years of corrosion protection that lasts no matter how many miles you put on the vehicle.6 These incredible warranties combine to offer compelling coverage for your new luxury vehicle.
Factory Scheduled Maintenance Program
Every new Volvo vehicle includes Factory Scheduled Maintenance. This program covers some maintenance visits for your automobile, defraying the cost of new car ownership. Your first three visits, which are scheduled for 10,000, 20,000, and 30,000 miles, are covered by this program. You have three years or 36,000 miles on the road to schedule these complimentary appointments.6
As we have explained, the Volvo S90 price includes more than a bold and refined luxury executive sedan. You'll also enjoy access to the Volvo Cars App, impressive warranty coverage, and complimentary maintenance visits. If you're ready to hop behind the wheel of your next ride, visit our dealership in Daytona Beach, FL, for a Volvo test drive.
The 2023 Volvo S90 Competitors
Our new Volvo S90 for sale is not the only luxury sedan on the market. We will compare and contrast this sleek vehicle with three of its competitors to help drivers near Orlando, FL, figure out which is the best option for them and theirs.
The Audi A6 is an impressive vehicle. Its standard powertrain is comparable to that of the Volvo S90, though the upgraded V-6 is not as powerful as the 455-horsepower plug-in hybrid Volvo S90 Recharge powertrain. The Audi A6 also has no complimentary maintenance and fewer standard safety features. This round goes to the Volvo S90.
The new Mercedes-Benz C-Class is a sleek luxury sedan, but its standard engine – the only one it has available – makes only 255 horsepower, significantly less than the 295 found on the entry-level Volvo S90. Reviewers also note that the vehicle's brake pedal leaves something to be desired. The car comes standard with rear-wheel drive, offering less control over the vehicle than the standard all-wheel drive of the Volvo S90. This matchup goes to the Volvo sedan, too.
The last vehicle we will consider is the BMW 3 Series. It has three available engines—two are less powerful than the entry-level Volvo S90 setup, and the third falls about 70 horses short of the Volvo S90 Recharge powertrain. The vehicle also comes with fewer luxury comforts than our new Volvo S90 for sale – features like a heated steering wheel are optional on the Series 3, but standard on the 2023 Volvo S90.
Thank you for taking the time to read our Volvo S90 review. Our dealership team proudly offers Volvo automobiles to our community here in Daytona Beach, FL. Our Volvo S90 lease specials make it easier to start driving a new luxury sedan. Visit our lot near Orlando, FL, today for a test drive.
FAQ
Is Volvo S90 a reliable car?
The 2023 Volvo S90, like the rest of the Volvo lineup, is durable and long-lived. These vehicles are built to last for many years on the road and to be easily serviced, which is an important part of reliability. The Volvo S90 also comes with Factory Scheduled Maintenance coverage, which will help you keep the car on the road.
How much does a Volvo S90 cost?
The answer to this question depends on the trim and options you select for your new luxury executive sedan. What holds constant across every Volvo S90 configuration, however, is that this vehicle offers excellent value for your hard-earned money. It is sporty, luxurious, and efficient. Please reach out to us to schedule a Volvo S90 test drive when you're ready for a speedy new ride.
What are the different trims of Volvo S90?
There are three versions of the new Volvo S90 available. They are the:
Volvo S90 Plus
Volvo S90 Ultimate
Volvo S90 Recharge Ultimate
The first two models are mild hybrids, and the last is a plug-in hybrid. It offers even better fuel economy ratings than the mild hybrid versions of the car, though you will need to recharge the battery in addition to refilling the tank.
Is Volvo S90 expensive to maintain?
The Volvo S90 is not particularly expensive to maintain. The vehicle is durable and built to last, so you likely won't be spending an arm and a leg on maintenance. It comes with compelling warranties and Complimentary Scheduled Maintenance, which can help defray maintenance costs. If you have any questions about the Volvo S90, please don't hesitate to reach out to us.
What car is the Volvo S90 comparable to?
There are many luxury sedans on the market. The Audi A6, BMW Series 3, and Mercedes-Benz C-Class are commonly cited as competitors to the Volvo S90. The Volvo executive sedan does, however, offer a more compelling blend of efficiency, power, and features than its competitors. Visit us in Daytona Beach, FL, today for a Volvo S90 test drive.
Volvo S90 Reviews
Michael Cohn
02.03.2020

I came in 30-45 minutes before closing, hesitant of course, with a list of possible used car's I was looking for. (35k-40k range Luxury Sedan's) I was subtly greeted by Jonathan. Keep in mind, only one Volvo (the S90) was on that extensive list. Majority of the other dealerships on that strip would just look at my list filled with their cars and say 'we have one but you won't like it' or 'we don't sell these'. Not Jonathan, he immediately went into detail regarding the vehicle I wanted with immersive but not overwhelming product knowledge. Listing the pro's and con's of different trims, the prices and even showed me one. All despite not having a used one there for me to buy that day. It was at that moment, I knew I'd be buying a Volvo. From my experience, car buying can be stressful and I've never had an amazing experience at a Fields Auto dealer. But Jonathan changed all that. I'll be back, I guarantee it.

View Other Volvo Models For Sale:
---
1Volvo Valet is only available at participating retailers.
2Loaner vehicles are subject to dealer availability and policies.
3Prices shown are Manufacturer's Suggested Retail Price (MSRP), Base Price or Starting At price and excludes destination fees, taxes, title, license, and registration and/or electronic filing fees, dealer fees.
4For more information, please visit the official US government source for all fuel economy at www.fueleconomy.gov.
5This is a hybrid plug in vehicle. Since electricity is not measured in gallons, a conversion factor is used to translate the fuel economy into miles per gallon of gasoline equivalent (MPGe). Use for comparison purposes only. Your MPGe will vary for many reasons, including but not limited to, driving conditions, how and where you drive, how you maintain your vehicle battery-package/condition, and other factors. For more information, including information on MPGe, see www.fueleconomy.gov
6Warranties listed on this web page shall not be solely relied upon. Warranties may be subject to specific terms, restrictions, exclusions, and fees. Additional warranty information may be obtained by visiting the official website of the warranty provider. Contact our dealership for complete details.