Volvo XC40 Colors 2022 & 2023

Expand or Narrow Your Search Using These Convenient Quick Links:
The Volvo XC40 colors are rooted in the refined Scandinavian design ethos of Volvo Cars. Scandinavian art and aesthetic preference lean toward natural themes and fluidity. These ideas have translated well to the automotive world; Volvo vehicles are sleek and elegant. When you drive a vehicle like the Volvo XC40, you're behind the wheel of a piece of art. This article will discuss the 2022 Volvo XC40 colors and the 2023 options.
2022 Volvo XC40 Exterior Colors
Choosing the right paint job for your SUV should be a labor of love. You want to find a hue that matches your personal preferences. Folks who prefer to avoid the spotlight will probably not enjoy driving around in a bright red attention-grabbing automobile, after all. Luckily, Volvo Cars offers a bevy of colors to choose from for your 2022 Volvo XC40. There are nine options:
Glacier Silver
Fusion Red
Onyx Black
Denim Blue
Pebble Grey
Crystal White
Thunder Grey
Black Stone
Sage Green
These wide-ranging Volvo XC40 colors include something for everyone. People who prefer a stealthy look will be well-served by the Black Stone, Onyx Black, and Thunder Grey shades. Those who enjoy the spotlight may opt for Fusion Red or Glacier Silver. Denim Blue, Pebble Grey, Sage Green, and Thunder Grey offer attractive middle-of-the-road options for drivers with their specific tastes. You can't go wrong when you select any of these sleek options.
2022 Volvo XC40 Interior Colors
The interior of the 2022 Volvo XC40 does not have as many different shades available as the exterior of the vehicle, but they are just as sleek and refined. You can choose from Charcoal, Blond, or Amber upholstery. Depending on the trim you select, your choice of color can be paired with metallic or real wood interior accents. This vehicle is elegant and comfortable, offering available comforts like heated seats.
The Volvo XC40 colors are compelling, to say the least. The rest of the vehicle's specs are just as eye-grabbing: it offers great fuel economy, plentiful creature comforts, and a spacious cargo area. If you're ready to start driving a sleek Volvo XC40, you'd do well to review our used Volvo XC40 inventory.
---

---
2023 Volvo XC40 Exterior Colors
The 2023 model of the Volvo XC40 has the same number of paint jobs available as the 2022 model, but some options are different. This is a boon for drivers interested in the Volvo XC40: you have even more choices of exterior color between these two versions of the vehicle. The nine Volvo XC40 color options for the 2023 model are:
Onyx Black
Bright Dusk
Crystal White
Thunder Grey
Silver Dawn
Black Stone
Fjord Blue
Sage Green
Fusion Red
These 2023 Volvo XC40 colors are dynamic and varied. Fusion Red returns to delight drivers who like to stand out on the road, and it is joined by radiant options like Silver Dawn and Crystal White. The new Fjord Blue shade is striking, putting a calming hue on the outside of your vehicle. The black and grey options are perfect for those who like to fly under the radar.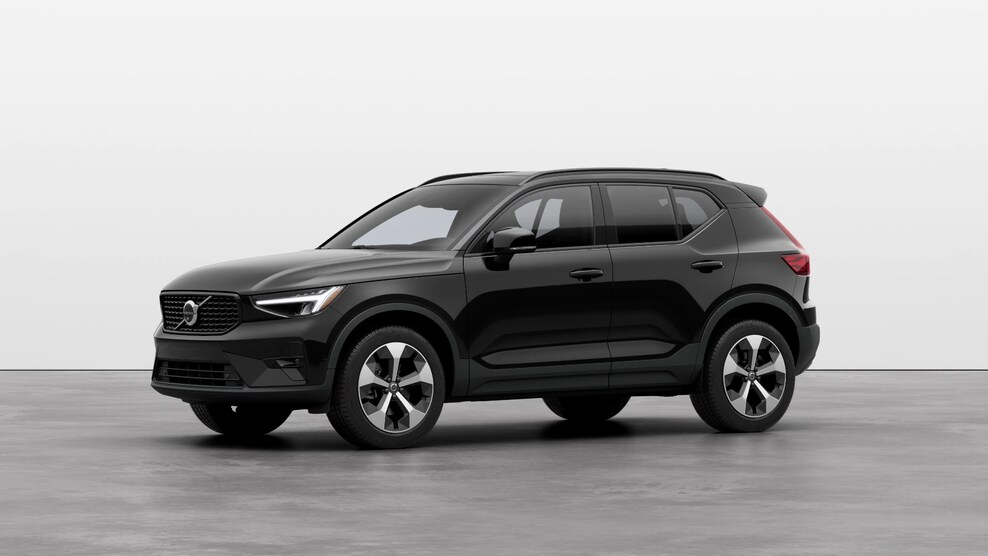 2023 Volvo XC40 Interior Colors
The new Volvo XC40 has a compelling lineup of available interior color schemes. The entry-level Core model lets you choose between Grey Melange City Block Textile with Charcoal details or Charcoal Leather with matching accents. The mid-tier Plus trim offers the Charcoal leather option or Blond leather with Charcoal and Blond interior finishes. Finally, the Ultimate version of the 2023 Volvo XC40 offers the two aforementioned leather upholstery options or a Charcoal Connect Suede Textile/Microtech upholstery choice, which is paired with Charcoal accents.
These options are all refined and elegant; your new SUV will feel like your home away from home. If you want to see the different options for yourself, you can review the Volvo interior colors. Be sure to imagine yourself sitting in the driver's seat of this sleek new SUV.
New Offer!
2023 Volvo V60 Cross Country Wagon
Lease: $585/mo for 36 mos. $3,885 due at signing
New Offer!
2021 Volvo XC40 SUV
Financing Offer : 4.99% for 36 mos on select Volvo models
New Offer!
2020 Volvo XC40 SUV
Financing Offer : 4.99% for 36 mos on select Volvo models
New Offer!
2021 Volvo S60 Sedan
Financing Offer : 4.99% for 36 mos on select Volvo models
New Offer!
2020 Volvo S90 Sedan
Financing Offer : 4.99% for 36 mos on select Volvo models
New Offer!
2021 Volvo S60 Recharge Plug-In Hybrid Sedan
Financing Offer : 4.99% for 36 mos on select Volvo models
New Offer!
2021 Volvo XC60 SUV
Financing Offer : 4.99% for 36 mos on select Volvo models
New Offer!
2022 Volvo XC60 SUV
Financing Offer : 4.99% for 36 mos on select Volvo models
Explore Our Volvo XC40 Inventory & Lease Offers
The compelling Volvo XC40 colors offer something for everyone, no matter their tastes. Our dealership is proud to provide this muscular vehicle to drivers in our area. You can purchase our new Volvo XC40 or lease the vehicle. Leasing is an excellent option for folks who want to drive a brand-new car without the long-term commitment of purchasing it outright.
Whether you want to lease or buy a vehicle from us, we eagerly await doing business with you. Our finance team works hard to try and secure you the low-rate financing package you deserve. No matter which of the Volvo XC40 colors you're interested in, we can help you get behind the wheel of your dream vehicle. Visit us today for a Volvo XC40 test drive.
FAQ
What colors does the Volvo XC40 come in?
The 2023 Volvo XC40 is available in Black Stone, Thunder Gray, Crystal White, Fjord Blue, Onyx Black, Fusion Red, Silver Dawn, Sage Green, and Bright Dusk. Similar colors are available for previous model years as well. With this many options, there is something for everyone – choose the color you want and make a splash at Gunther Volvo Cars Daytona Beach.
What color is Volvo Glacier Silver?
The three Grey shades for the 2022 Volvo XC40 may seem like similar options, but they look a lot more distinctive when you see them in person. Compare Glacier Silver's smokier tone with the more bluish Thunder Gray and the understated Pebble Gray at our dealership today. All three of these options are great choices for your new luxury SUV.
Is Volvo Thunder Grey metallic?
Thunder Gray is an outstanding color choice for those that want to look professional. This attractive color looks like a sharply tailored suit as it hugs this SUV's contours and sturdy frame. Thunder Grey does have a metallic finish and complements the alloy wheels on this model effortlessly. Drop by our dealership to see this sleek color – and to test out the Volvo XC40.
---
Make an Inquiry
* Indicates a required field
Hours
Monday

9:00 AM - 8:00 PM

Tuesday

9:00 AM - 8:00 PM

Wednesday

9:00 AM - 8:00 PM

Thursday

9:00 AM - 8:00 PM

Friday

9:00 AM - 8:00 PM

Saturday

10:00 AM - 7:00 PM

Sunday

12:00pm - 6:00pm