Volvo Electric Car Charging Stations

This electrifying information page about electric car charging stations will energize you with everything you need to know about life with an EV or PHEV. Electrification is the way of the future with personal mobility. There's no doubt about that. We're still surprised to hear about customers' reservations regarding range, charge times, and costs. Simply put, these old concerns are merely that: an old issue. EV technology has never been better, and the national charge network makes getting anywhere you want to go a worry-free experience. Read on to learn more about electric car charging stations, EV & PHEV technology, and the incredible savings you'll see just for deciding to save the environment.
Life Is E-Z When You Have an EV
We all understand that an internal combustion engine vehicle means you drive it, refuel when necessary, and change the oil every so often. When people consider owning an EV or PHEV, ownership requirements are often fuzzy; when in fact, it's easier than a fossil-fuel-powered vehicle. Let's take a look at some key information, so you can feel like you're the master of the machine: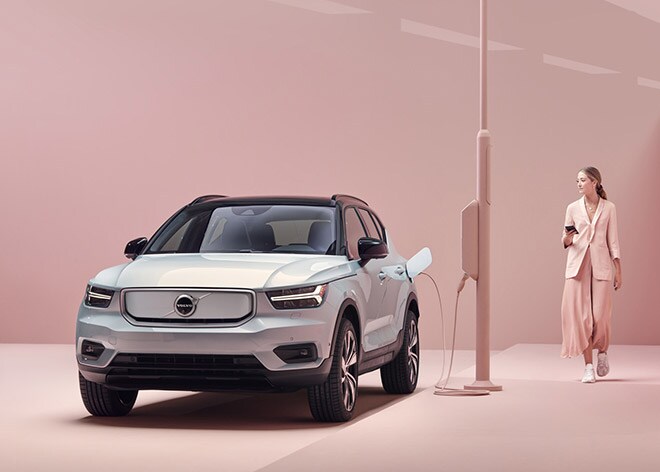 No more engine! In exchange for an engine, you'll have a battery in a fully electrified vehicle. In a plug-in hybrid (PHEV), you'll have a battery/engine combo that works without you having to do anything (though you can select a pure electric mode on demand if you wish). Fun fact: the bigger the kWh value, the more powerful the battery. You can think of this kWh value in a similar way to your understanding of how a 4cyl, 6cyl, or 8cyl engine would compare.


Hybrid vs. Plug-in Hybrid Both efficient battery/engine vehicles. As the nomenclature might suggest, you cannot recharge a depleted battery in a hybrid vehicle with an outside source. Its ability to charge is through regenerative braking. And in some newer vehicles, the solar-cell roof trim is able to charge the vehicle.


Regenerative braking is a self-charging feature on both hybrid and PHEV vehicles. In almost all cases, regen-braking strength can be adjusted to suit your driving preferences. The strongest setting will allow for what many drivers refer to as "one-pedal driving." In other words, regen-braking is so strong that when you let off the accelerator, the car is slowing down as if you are firmly pressing the brakes. You can also set regen-braking to mild, which mimics the feel of a gas engine vehicle.


EV technology is cutting edge, with some vehicles being able to recharge almost fully while you're having lunch. In the next section, we'll discuss costs, public vs. private electric car charging stations, as well as rules of thumb with respect to electric car charging time.
Electric Car Charging Stations, Costs & More
EV charging technology has been around for almost 15 years. Yet many customers come to us with a fuzzy understanding of the basics of life behind the wheel. To help you feel great about EV & PHEV ownership, we've put together some answers to the top questions we get about EVs, electric car charging stations, and the costs associated with owning them.
How do you charge an electric car?
As mentioned above, it's easy! You can charge at home, at public charging stations, or even while driving, through the vehicle's regenerative braking system. There are well over 100k charging stations nationwide, so any road trip is a breeze.
How long does it take to charge an electric car?
Like any battery, size matters. But so does its chemistry. The bigger the battery, the longer it usually takes to charge. Fortunately, the Volvo XC40 Recharge uses the latest fast-charge batteries, which yield an impressive charge time from 0 to 80% full in as little as 30 minutes with the correct equipment.
How much does it cost to charge an electric car?
How does free electric car charging sound? At select locations in Daytona Beach, FL, as well as nationwide, you can charge your EV & PHEV at no cost to you. Rates will vary at pay-per-charge stations. A good rule of thumb is that even at peak charging times, energy costs have always been less than the price of a gallon of fuel.
When you buy a new Volvo XC40 Recharge, does she come with an electric car charger?
Every new electrified Volvo vehicle comes with a Level 1 plug-in charger. This type of charger connects your vehicle to a conventional outlet for convenient home charging or anywhere there is a 12V outlet within reach. Consider this convenient bonus from Volvo Cars as your go-anywhere portable electric car charger.
Is there free electric car charging in Daytona Beach, FL?
You bet! At the time of our writing this, a WHOPPING 92% of all public charging stations are available at no cost to you.
Electric Car Charging Stations & Beyond
If the free electric car charging stations in Daytona Beach, FL, don't have you jumping for joy, this next eco-fact might: tax incentives from the government. All Volvo vehicles qualify for federal incentives that come back in spades at tax time. The current incentive is up to $7,500, so be sure to ask your sales specialist for more details about how that applies to you and your vehicle.
On a parting note, you can also enjoy the convenience of faster charging at home with one of our electric-car home charging stations from ChargePoint. Level 2 charging is yours on demand, and even fully depleted batteries are charged before you're finished doing all the laundry (when properly equipped, of course).