The 2022 Volvo XC90 is on her way to our dealership. To be among the first to get your hands on the Volvo XC90 Hybrid or any of the new 2022 Volvo models, get in touch with our dealership and add your name to the waiting list.
During your call with our team, we can answer any questions you have about the 2022 Volvo XC90 release date, Volvo lease deals, and exciting new tech on the 2022 Volvo XC90 redesign. When your new Volvo XC90 Recharge plug-in hybrid arrives, we will give you a call so you can come by and meet this Volvo SUV for sale in person.
The 2022 model year is going to see the arrival of several exciting new models, in addition to the 2022 Volvo XC90. You can reserve the 2022 Volvo C40 if you're interested in the latest pure-electric crossover from Volvo Cars.
Thinking about a new crossover? Then the Volvo XC40 Recharge Pure Electric compact SUV is the car for you.
2022 Volvo XC90 Interior

If you're shopping for a new three-row SUV with seating for six or seven, then the 2022 Volvo XC90 is likely high on your list. And for a good reason. This new luxury SUV offers a host of innovations, such as an available integrated booster seat that helps your vehicle grow with you. Want to bring your tech along for the ride? The cabin of your Volvo XC90 can be a rolling hotspot to keep your passengers entertained on their devices. To keep those devices fully charged, USB, USB-C, and wireless charging are all available. Contact us to learn more.
Safety for Your Family
In 1959, Volvo Cars introduced the 3-point seat belt and gave it to the world because automotive safety is so important. By giving away the patent, it meant that seat belts could become standard on all cars today. Consequently, the Volvo seat belt has saved an estimated one million lives, but Volvo Cars is not stopping there.
The 2022 Volvo XC90 is equipped with advanced safety features designed to help save a million more lives. Key safety features include standard active bending LED headlights that emit bright light and turn with you as you turn the steering wheel to illuminate objects and pedestrians you might not have noticed. The Blind Spot Information System (BLIS) helps you change lanes safely by seeing where you can't.
Are you about to have a new driver in the family? If so, the Volvo Care Key allows you to set a top vehicle speed when that key is present in the car before you lend the car to heavy-footed family members or inexperienced drivers. Lastly, the 2022 Volvo XC90 offers a pure electric option, which helps keep the Earth safe as well.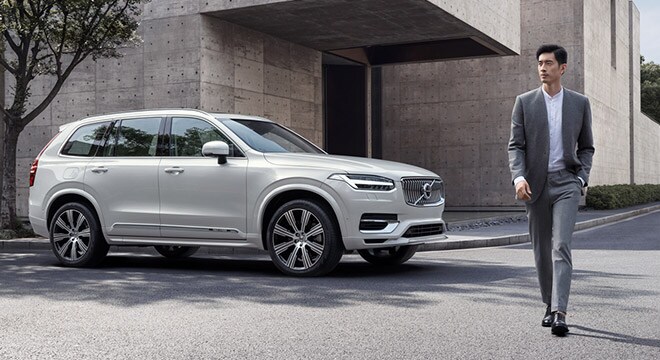 2022 Volvo XC90 Redesign
The 2022 Volvo XC90 Recharge plug-in hybrid offers a host of new design changes to the exterior and throughout the cabin, as well as the addition of exciting new technologies. One of the features we're excited about here at Gunther Volvo Daytona is the Level 4 Autonomous Driving System. To reserve your 2022 Volvo XC90 or browse any of our new Volvo cars for sale, please visit our dealership.
FAQs
What is the 2022 Volvo XC90 release date?
The 2022 Volvo XC90 Recharge plug-in hybrid is expected to arrive at our local Volvo dealership near the end of 2021. If you would like to make sure you are one of the first to see and drive this new luxury SUV, you can reserve the 2022 Volvo XC90 at our Volvo dealer. When you contact our sales team, we can answer any questions you have about the 2022 Volvo XC90 price, redesign, and interior features. We can also tell you more about the advanced safety features and autonomous driving capabilities that this new three-row SUV has to offer.
How much will the 2022 Volvo XC90 cost?
At the time of writing, the pricing information and trim models are not currently available, but the 2022 Volvo XC90 price is expected to be comparable with the current model lineup and other cars in her class. To learn about Volvo lease offers and finance specials on electric SUVs, get in touch with our finance department. Our team can give you current pricing information as it becomes available. A great way to start the process is to apply for Volvo financing through our dealership and get pre-approved for credit and lease specials before this new SUV hits the streets.
Is the 2022 Volvo XC90 getting a redesign?
The Volvo XC90 SUV is expected to receive a full redesign soon, which will likely take place in the 2022 model year. The Volvo XC90 redesign is slated to include loads of novelties, such as an updated platform that will allow for weight reduction, support electrification, and improve the overall ride quality in this premium midsize SUV. Radical changes to the exterior styling are not expected. Instead, an evolutionary approach with subtle changes to the design language is anticipated. This would likely include new LED headlights that emit a crisp, bright light and turn with your vehicle for added safety.
Will the Volvo XC90 come in a pure electric version?
Yes, the 2022 Volvo XC90 is expected to have both a plug-in hybrid option and a pure electric version. To learn more about the EPA-estimated 2022 Volvo XC90 MPG and MPGe figures, reach out to our sales team. We can provide you with the latest information on estimated range capabilities, how long it takes to charge the Volvo XC90 Recharge, and mileage figures. We can also go over how far the Volvo XC90 Recharge can travel on the pure electric range. To reserve your new plug-in hybrid or pure electric luxury SUV, contact the sales team at Gunther Volvo Daytona today.
Reserve Your 2022 Volvo XC90 at Gunther Volvo Daytona
To learn more about the 2022 Volvo XC90 price and lease deals on Volvo SUVs, feel free to get in touch with our finance team. The professional associates in our finance department are here to walk you through our basic credit application and tell you about current offers on new cars for sale. Swing by our dealership to learn more about the 2022 Volvo XC90 redesign today.